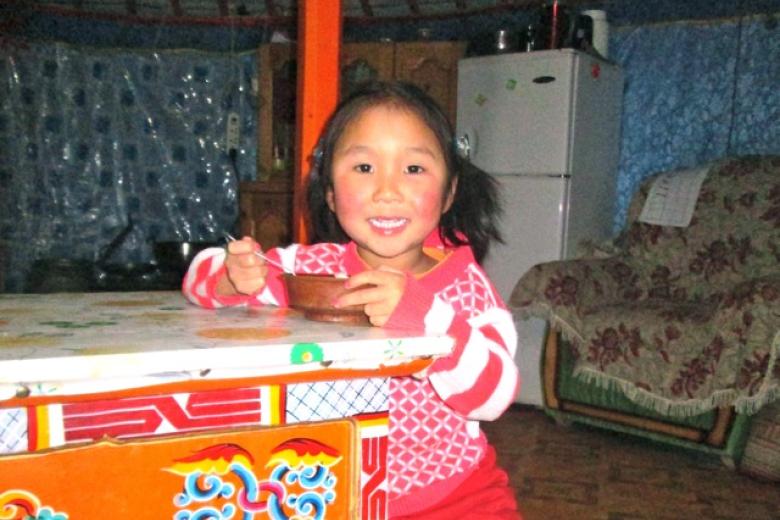 Talkative Ariunsanaa Brings Joy to her Parents
Monday, January 27, 2014
Story by: Togtokhbayar Dorjpalam, World Vision Mongolia Communications
Three-year-old Ariunsanaa Baasansuren is the joy of her adopted parents in the remote province of Taragt Uvurkhangai province in Mongolia, where they live in a ger - a traditional round-shaped tent with a felt covering.  Ariunsanaa loves to talk about how she wants to play with her parents, what she wants to eat – her favourite is dumplings and meat broth – and how she spends her day at kindergarten.
Ariunsanaa's father Bavuusuren, 42, is a taxi driver and her mom Tsetsgee, 46, works as a hospital attendant. Her parents spoil her while teaching her how to fold her clothes, how to wash her cups and how to tidy her toys after she finishes playing. Ariunsanaa puts her clothes on by herself. She likes to go to kindergarten and has many friends. 
Ariunsanaa's seemingly typical childhood did not start that way.  
In January 2010, Ariunsanaa was born weighing 2.7kg. One month later, her health turned worse when her weight dropped to 1.350 kg. Ariunsanaa was born into a family living in poverty. Her birth mother, Battogtokh, had a mental disability and was not able to provide adequate care, so she puts Ariunsanaa up for adoption. 
Bavuusuren and Tsetsgee happily adopted Ariunsanaa and allowed Battogtokh to stay with them for six months so she could breastfeed Ariunsanaa. They took care of Battogtokh and fed her with nutritious foods so she had enough breastmilk. 
Tsetsgee learned good nutrition practices from the Positive Deviance Hearth (PD Hearth) project at the Adyasuren Health Clinic supported by World Vision Mongolia. PD Hearth teaches parents how to prepare nutritious food for their infant children and to monitor their health from ages 0-5. 
For the past 11 years, World Vision has cooperated with local health clinics to implement PD Hearth, a 12-day session on nutrition and monitoring. Mothers who attend the training sessions are then encouraged to teach what they learned to other mothers of malnourished children. 
According to Adyasuren health center staff, if parents follow the teaching, children will become more resilient to catching colds, maintain a healthy weight, and won't have vitamin D deficiencies (rickets) in the severe winter, which can get as cold as -40C.
Ariunsanaa was underweight until she was two years old and is now a talkative, healthy girl whose future is as bright as her rosy cheeks.  
"She brings joy in my family!" says Bavuursuren.