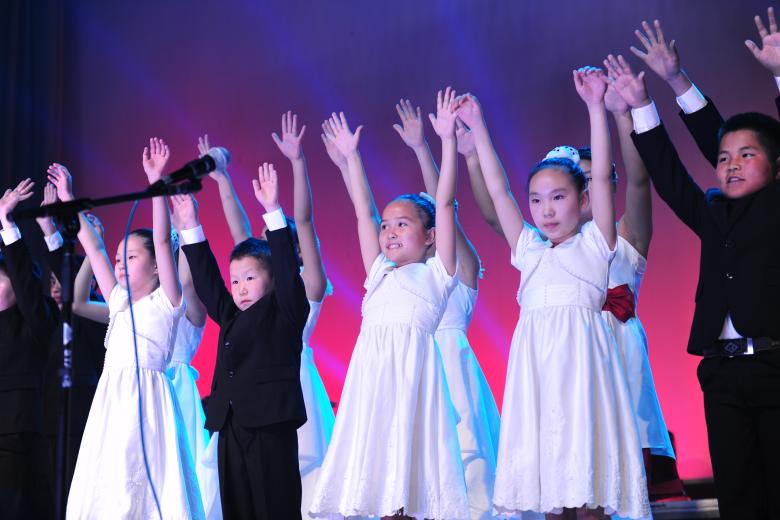 Ten wonderful years of "Children of Blue Sky"
Monday, April 21, 2014
A decade ago "Children of Blue Sky" choir was born to develop and nurture the children through music and singing provided the children with an opportunity not just to discover their talent and potential but to rise above their circumstances.
Since then, the group has: 
Helped 100+ underpriviledged children become choir performers
Enabled choir members to embark on post-secondary education
Won prestigious international competitions
Toured to Korea, Malaysia, UK, Japan, Taiwan, Singapore, India & Hong Kong
Celebrated with 9 choir members who were awarded 'Best Youth' medals from the 

Mongolian Youth Federation 
To celebrate the 10th anniversary, the acclaimed choir's anniversary held a concert at the Russian Cultural Center, with many high ranking government officials in the audience. 
Rising stars born from the choir came to encourage their younger brothers and sisters in the choir, including former lead singers of the choir N. Unudelger, T. Amarbayasgalan, N. Enkh-Amgalan, B. Nyamdash who have participated in the national competition "Universe best songs" and placed to top 25, and 15.
The members of the choir exhibited extraordinary strengths of overcoming the challenges of poverty and neglect through music and dance.
This talented group of children has won many achievements in the past; including: in 2005 "The Best of the Best" from the "Golden Fall" professional art celebration, and the Grand Prix from the children's choir celebration organized in Korea.
Furthermore, part of the group has had many duets with famous local as well as international artists, and has performed in the UK, Singapore, Taiwan, Korea, Hong Kong, India and Japan.