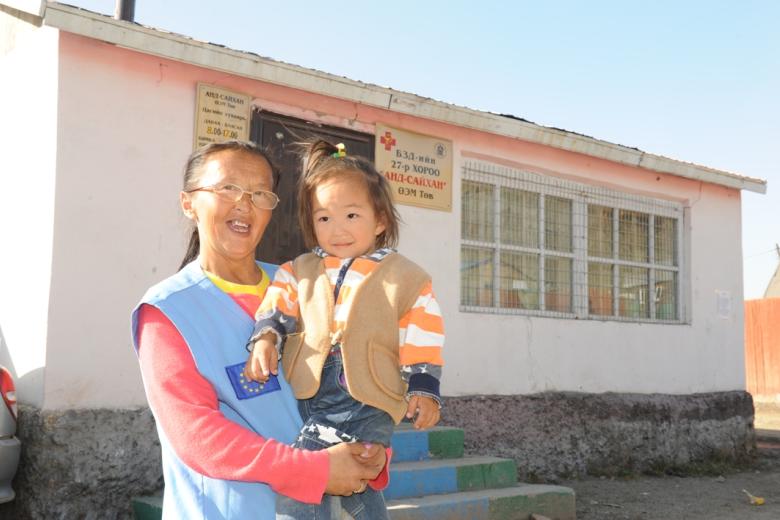 Volunteering for the future
Monday, March 3, 2014
As a growing economy, Mongolia has been expanding its market year after year with a remarkable growth of over 16 percent in the first quarter of 2012. But at the same time the inflation rate has picked up the same size, leaving low-income families in Ulaanbaatar on the edge.
The poverty rate has reached 29,8 percent this year according to a report from the World Bank. At this level of poverty, it is highly unlikely that one would be willing to do volunteer work. Even so, there are those, who wish to serve the society at will and at no cost –known as volunteers. Meet Bulganaa Sangdorj who voluntarily teaches classes on child health to young mothers. As a single mother herself, Ms. Bulganaa understands what it's like to feel helpless when the child falls sick, and worst of all, to have nobody to turn to. "That is why I decided to become a volunteer. It's a so great to watch children grow healthy and without illness," she says.
Every week Bulganaa spends three to four hours at her local family clinic to advise young mothers on how to better care for their newly-born babies. Majority of times, her advice focuses on preparing nutritious, yet easily affordable food for the infants, because many parents struggle to purchase nourishing products due to their low-income. "I teach them to cook healthy food at a reasonable price with simple products. I think people really enjoy learning more about that," Bulganaa says with curiosity in her eyes and her deeply tanned face. Moreover, she teaches senior folks in her community to practice routine exercise, while also helping the family clinic doctors with routine breast cancer checks.
At age 40, Bulganaa makes time for her 2-year-old son and her own mother, who she lives with, while also juggling her volunteer work. "It is very important that parents know how to treat their children when sick and most importantly how to prevent it," she added. However, she wasn't always this passionate about volunteer work.
Bulganaa's son was diagnosed with malnutrition six months after birth and he urgently needed nourishing products to resolve this problem. That's when World Vision Mongolia intervened with its various projects on strengthening local communities' health. One year later, Bulganaa walks the street with a long smile across her face and her son, who reached the normal weight thanks to the Sprinkles – a supplementary nutrition for underweight children distributed through the families clinics from World Vision Mongolia. But that's not all. The international non-government organization invited Bulganaa to attend various workshops, trainings and activities aimed at strengthening the local community where she learned to care for her child better. After her son's recovery, she made up her mind to help other mothers in need, even if it meant no payment for her labor. "I call all children 'my son' or 'my daughter', because they all look equally cute to me," Bulganaa says.
Just one kilometer south of Bulganaa's family clinic is another set of volunteer activities in process. Twin girls Khoszaya and Khosjargal Nergui teach and train children on drawing painting, self-respect as well as computer and team building. Both studying as juniors in college, the young volunteers learned the value of sharing the hard way. Their father passed away in 2005 after losing a battle with cancer, leaving their mother and three other siblings in difficult condition. "[Our mother] was struggling to put food on the table and raise all of us after dad's death," said Khoszaya. So, after graduating from high school, the two girls stayed at home, because they could not afford to go to university. "It was the most horrible time of my life," says Khosjargal. "There was nothing to do except stay at home and live the routine life. I pitied myself."
That is when they turned to World Vision Mongolia and applied for a scholarship. Given the twins' passion for learning, the international development organization awarded the girls with an opportunity to go to university, and study their favorite subjects – Design and Multimedia. Now, as juniors Khoszaya and Khosjargal promised themselves that what little knowledge they gain from school, they will share with their community. And share – they do with a little assistance from World Vision! Three times a week, the twins conduct a class on drawing – taught by Khoszaya, and elementary computer skills – taught by Khosjargal at World Vision Mongolia's Dari-Ekh Area Development Program's Office. It is amazing that they manage to get above 3,5 grade-point-average and still maintain volunteer work.