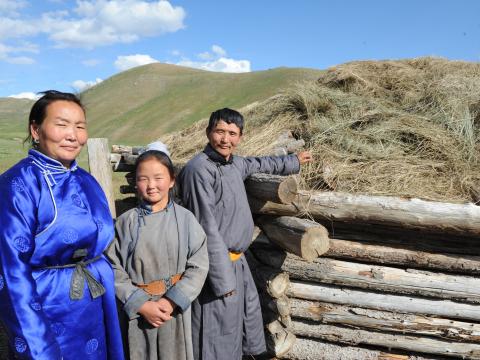 Winter is coming … zud or not
Wednesday, October 14, 2015
Winter is knocking on the door of Mongolia…is it going to be harsh or not?
Often, Mongolian western provinces experience minus 40 and 45 degrees Celsius, especially in Tosontsengel and Ikh-Uul, Zavkhan. Those temperatures are terrible for farmers who keep sheep, yaks, horses, or cattle. It means that the ground is too frozen for the animals to graze and the animals need extra food.  
13-year-old Gereltuya, an Ikh Uul county girl says, "I think it's difficult for animals during the zud (extreme cold). It's difficult to see my mum [coping alone] and it's difficult to walk outside. The snow makes my boots wet and I get sick sometimes."
After the 2009‐2010 zud, about 8.5 million livestock died, approximately 20% of the country's livestock population.
Mongolia has nearly 330,000 herders and 60,000 vegetable farmers, who endure five types of zud: black, white, cold, iron and storm. The poor snowfall and freezing temperatures of a black zud cause drought, while white dumps massive amounts of snow on frozen grassland, starving livestock.
World Vision Mongolia implemented a project called Improve Herder's Resilience to Natural Disasters in 6 counties in Zavkhan province for the last 3 years, from October 2011 to September 2014.
The project was implemented after the 2009‐2010 zud, when about 8.5 million livestock died, approximately 20% of the country's livestock population. It affected 769,000 people or 28% of Mongolia's population. Mongolia lost 409.5 Billion of Mongolian Tugruk (approximately USD $3.3 million) as a result of livestock loss.
Government entities of National Emergency Management Agency, Provincial Governors Office, Ministry of Food, Agriculture and Light Industries were consulted on this World VIsion project that targeted 300 direct beneficiary households in the counties of Otgon, Shiluustei, Yaruu, Aldarkhaan, Tosontsengel and Ikh-Uul benefitting at least 900 children and a total of 1,500 herders.
Responsible for local household transformation, World Vision's Togtokhbayar Zavkhankhangai says, "World Vision has trained 50 herding families who were willing to learn more about disaster reduction. We asked them to meet at the county centre once. At other times, we trained them at their homes and invited their neighbours to join us.
"The herders preferred learning like that because they didn't have to leave their animals. We encouraged them to use traditional ways of preparing for the harsh winter."
Ikh-Uul county herder Bayanbaatar says, "We learned about predicting the winter from our parents at home. They taught us that if a deer bells on the mountains, we'll have a good winter. And if it bellows on the edge of the ravine, we'll have a bad one. If the edge of the lake in Ikh Uul county looks darker, we'll have less snow. But if it looks whiter, we'll have a zud. Also we are growing hay and vegetables."
Preparing for winter and spring, farmers have stored:
1.2 million tonnes of hay
150,000 tonnes of fodder
94,000 tonnes of salt marsh
Meanwhile, Mongolian herders have prepared:
721,000 tonnes of hay
9,900,000 tonnes of fodder  
6,200,000 tonnes of salt marsh
And, finally, Provincial and Counties' Emergency Reserve has prepared:
9,800,000 tonnes of hay  
1,200,000 tonnes of fodder
We hope the winter will not be too harsh, but we trust that farmers and herders will put into place what they've learned and have enough emergency supplies to keep their animals healthy all winter long, even on the coldest days.