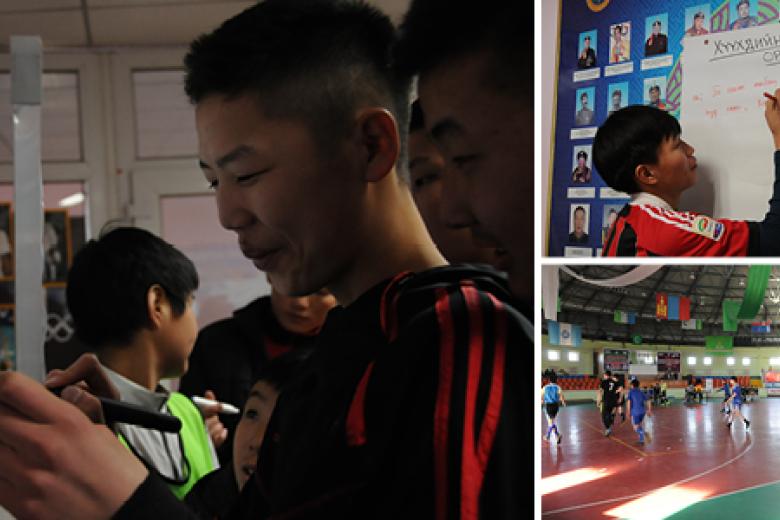 World Vision Cup: Raising children's voice through football
Thursday, February 27, 2014
"Children are the future, therefore, listening to them is important. Through football, children can give positive messages to other people on how to spend their free time right" says E.Turbat, 17, who dreams of playing in Champions League.
He is one of the dozens of children participating in the Vision Cup tournament, being held across the country, competing for a chance to participate in World Vision Cup events to be organised in Brazil. 

The Vision Cup football tournament is happening across the country, in all 21 provinces and Ulaanbaatar in partnership with the "Sensation 2020" football tournament, among youth ages 16 to 20.
What makes Vision Cup unique is that the competition will include both students in secondary and post-secondary institutions as well as young people who are out of school or who are employed. 

Youth between the ages of 15-19 constitute 9.7% of the population in Mongolia, yet their opinions are often ignored due to lack of mechanism to deliver their voice. Therefore, World Vision Mongolia is aiming to deliver children's voice to officials through the biggest football event in Mongolia.
Participants of the Vision Cup football tournament will discuss issues about their rights and responsibilities, including child protection and development during the forum organized alongside the tournament. 

So far, more than 10 provinces have now organised the forums, and prepared their manifestos.
During the discussions, children first identified the most pressing issues vis-à-vis child protection, development and participation and expressed their ideas on resolving the issues.
From the Tuv province discussion, the youth manifesto called for the following:

Smoke-free environments should be created for the children and youth

More sports clubs needed for youth to spend their free time

More computer and science laboratories in schools should be built

Children and youth should be informed about decisions affecting them and participate more in decision making process

Parents should pay more attention and listen to their children

In order to prevent child labour, cooperation between parents and school administration should be fostered

Manifestos prepared by children on their needs and requests will be combined and presented to the President and the Government in the national forum, in hope of turning into a youth bill and youth law.