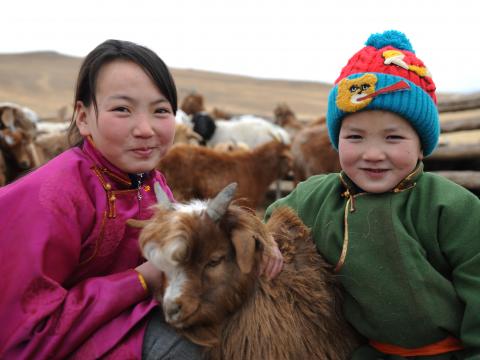 Grants and Special Projects
We aspire to the highest levels of best practice and accountability in all that we do. See how communities across Mongolia are benefitting from World Vision's partnerships.
Disaster Resilient Ulaanbaatar Project
Funded by: USAID and the Office of U.S. Foreign Disaster Assistance
Time frame: September 2016 - September 2018
Purpose and Objective:
Unplanned migration from rural provinces to urban areas has exacerbated the current risks of fires and floods in Ulaanbaatar. Additionally, in recent years, unfelt and moderate earthquakes have been increasing in the surrounding areas of the capital. Residents can be vulnerable to a potential disaster because of limited disaster planning and a rising number of residential buildings with sub-standard construction.  World Vision, through support of the Office of U.S. Foreign Disaster Assistance is helping citizens of Ulaanbaatar prepare for potential disasters. This project is updating government and household disaster management guidelines, conducting disaster trainings and simulations, and procuring equipment to help Ulaanbaatar better respond in the event of a disaster. World Vision is working closely with the National Emergency and Management Agency (EMA), Ulaanbaatar's Mayor's Office, city EMA, and district emergency management departments.
Livelihood Support and Tuberculosis Prevention in Mongolia
Funded by: The German Federal Ministry for Economic Cooperation and Development (BMZ)
Time frame: January 2015 - February 2018
Purpose and Objective:
Due to rural urban migration, half of the Mongolian population lives in Ulaanbaatar. This migration causes ger districts to expand, causing infectious diseases like tuberculous to quickly spread. The goal of the project is to raise the income opportunities of those suffering from tuberculous in Bayanzurkh and Songinokhairkhan districts of Ulaanbaatar.
World Vision will help 250 vulnerable families who have least one family member with tuberculous by:
· Training journalists to provide sufficient information about tuberculous to the public
· Improving access and knowledge about government support to patients with tuberculous
· Facilitating saving groups and conducting financial and small business development trainings
 This project will be conducted in support of schools, hospitals, other NGOs and the government.