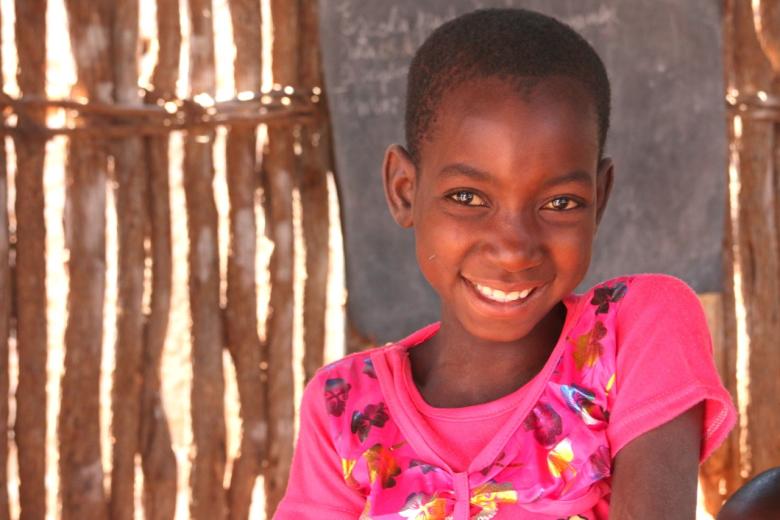 Mozambique's drought: Children dreaming of brighter future
Thursday, September 15, 2016
With her water jar and bag, Ivy enters her classroom, sweating heavily from a long walk. She's one of nearly two dozen children who walk nearly four kilometres to reach this school everyday. 
Here, in the remote villages of Cahora Bassa district, Tete province, school children brave 45 degree Celsius heat to get their education.
"I feel exhausted when I arrive home from school so I miss doing my homework sometimes. But in the next morning, I feel excited to go to school," Ivy shares. 
Tete is the hottest province in Mozambique. In the past, children could stop in the middle of their journey at a spot to dig holes and get water to quench their thirst. The water jars are just as important as their books. 
"It's hard to walk at these times because most rivers are dried up," Ivy says.
El Nino in Mozambique
The El Nino phenomenon has taken its toll to the lives of the people and children in Mozambique.
Data says:
About 1.5 million are food insecure in the country
Over 200, 000 children are projected to be at risk of acute malnutrition
What's worse, groundwater levels are being depleted, leaving shallower boreholes dry. 
The Regional Child Protection Rapid Assessment report released by World Vision, in collaboration with Plan International and UNICEF, shows that the drought is having a devastating impact on children in the Southern Africa region.
The report reveals that El Nino is forcing children into early marriage, child labour, and out of school.
"It's been a tough year for us. Some of our students have dropped out from school," says David, a schoolteacher. 
Water Scarcity
In Cahora Bassa, the irony is evident. One of the main dams of Zambezi river - the fourth longest river in Africa, is located in the district.
Unfortunately, in the remote areas – like Ivy's village, water is scarce.
Before El Nino, families get water from small streams or river but when the drought has dried up most of the water source, residents have to dig holes randomly in order to get water.
"Normally, I have to make a twice daily trek in order to fetch water for my family but with the drought, I do at least four rounds. My mother is pregnant so I have to help her do some chores," Ivy says.   
Enhancing food security and resilience
The Consorcio Humanitario de Mocambique (CHEMO), a consortium composed of World Vision and Food for the Hungry, funded by UK's Department for International Development (DFID) is targeting 13,007 drought-affected families to enhance their to food security and resilience.
The programme will run until March 2017 and will benefit El Nino-affected families in three provinces – Tete, Sofala, and Gaza.  
Support will include:
Food assistance
Nutrition
Access to safe and clean water
Hygiene promotion
Provision of agricultural seeds
Strenghtening of referral systems for the protection of children
"We are intensifying our response and strengthen our partnership among stakeholders including the community members themselves to reach out to the most vulnerable groups particularly the children," says World Vision staff Katharina Witkowski, DFID – CHEMO Consortium Manager – Emergency Response. 
Technological Solutions
For the first time in Mozambique, World Vision is also introducing the use of an innovative electronic voucher programme in partnership with MasterCard that will allow beneficiaries to buy their food at accredited shops.
For the entire benefiary registration, verification, distribution, monitoring and reporting, the Last Mile Mobile Soutions will also be used in the response. 
Dreams for the Future
Almost everyday, Ivy and her classmates endures walking kilometers and carrying heavy water containers on their heads to reach their dreams.

"I'm glad that most of them are still very eager to continue their education despite the hardship," says teacher David.
Their classroom is made from branches of wood – others conduct classes under a tree - books are limited – while some kids without slippers. 
"When I grow up, I want to become a teacher," Ivy says.
She adds that she also dreams to own a bicycle so she won't get tired from walking.
"Nothing is impossible," Ivy shares. 
Assisting Ivy's Community
In Cahora Bassa, World Vision will rehabilitate boreholes, distribute jerricans with water purification tablets, and also promote hygiene and sanitation practices.
Through the e-voucher, registered families will select food items such as maize meal, beans, rice, salt, oil, vegetables, sugar, and tea through a mobile accredited vendor for six months. After the training, target families will be entitled to receive seeds like sorghum, cowpea, groundnut, maize, and pigeon pea to rebuild their livelihood back. 
Currently, with its ongoing El Nino response, World Vision has reached out to more than 1.9 million individuals in Southern Africa, which covers Angola, DR Congo, Lesotho, Malawi, Mozambique, South Africa, Swaziland, Zambia, and Zimbabwe.
In Mozambique, about 63,700 individuals have already benefitted from food assistance, Water and Hygiene and Sanitation (WASH), and health nutrition programmes.