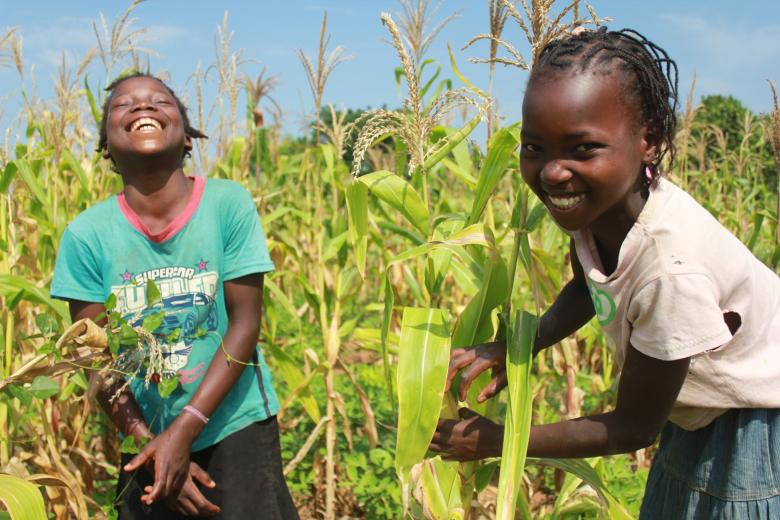 Food production program bring positive impact in Gaza-Mozambique
Tuesday, September 15, 2015
Food at home when is time for a meal is no longer an issue, says the 11 years old child Efigélia during a visit to her farm where the majority of food consumed home is produced.
"This is where me, my mother and grandmother cultivate, we grow, maize, vegetables, peanuts, bitter leaves, sesame and other basic products for domestic consumption" said Efigélia.
The family produces enough for consumption and the remaining food is sold giving the family the opportunity to purchase other products such as cooking oil, fish, and other things they cannot grow.
"I like when it's the harvest season, I collect as much peanuts as I can, those are my favorites, I take them home and get them washed and cook them, that's how I like to have them, cooked" says Efigélia.
"Today we are having porridge and fish, the fish my father bought with the money we sold some of the products, we grow here in the farm" the child tells.
"This scenario totally different from the past, before my mother joined a farm association supported by World Vision and there she received seeds, farming tools including oxen" says Efigélia inspired to be a mathematics teacher in the future.
Support in food production has been one of the priorities of World Vision programs during these 15 years of operation in             Mozambique.
Farmers were encouraged to come up with associations to for an easier support mechanism, the organization facilitated trade fairs, where it called providers of seeds and other products that farmers need to produce and the price was subsidized so that it was much cheaper during the acquisition.
With this initiative, farmers saved money and time they spent moving to the main cities looking for seeds and other tools for their production campaigns.
This support to different farmers association is possible thanks to the sponsorship program from World Vision, where sponsors such as that from Efigélia contribute to make her life and other children like her better.
Efigélia still has fresh memories from the letters she received from her sponsor and the most she likes about them is that the sponsor always asks how she and the remaining members of the family are doing.
"My sponsor always ask me how am I doing, he asks how my mother and others are doing that is very nice" says Efigélia.
Mozambique is one of the countries that benefit from the special food security project, where beneficiaries got a pair of goats for a certain period and the same passed to others soon after breeding.
The special project trained members of the associations to do a proper planning for commercialization of their products soon after the harvest, and the members also benefited from fishponds installed in the community as an alternative income generation source, an activity that is expected to continue for years to come.
Still in the food security farmers benefited from a variety of oranges produced in farms owned by the associations also as an income generating source but also for domestic consumption.
World Vision screened nearly 50 per cent of the children as part of a program to rehabilitate malnourished children, according to Suzana das Dores, WV-Moz provincial Health coordinator.
"In 2012, I personally witnessed a stunning recovery of malnourished children myself, they were twins, they did not walk and stand, but in 12 days they gained more than 200 grams each, they stood and started walking everything thanks to this program" said Suzana.
The program train mothers from the community, who learn techniques to identify malnourished children and they are also taught how to prepare food rich in nutrients based on products that mothers grow in their farms.