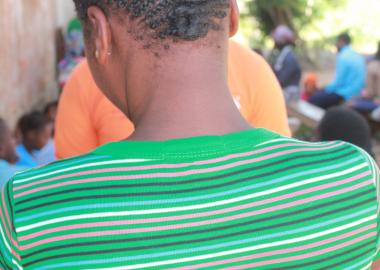 Good will ambassador: losing sleep over early marriage
Tuesday, June 14, 2016 — Admin
The plight of girls subjected to violence, particularly through early marriage, will be at the center of an unprecedented live radio marathon over the coming weekend in Mozambique. Half of the country's girls are married off before their 18th birthday, a 'national tragedy' the initiative wants to denounce and demand an end to.  Supported by non-governmental organization World Vision, the event is organized by local radio station Super Fm, to mark this year's Day of the African Child.
"As parents, as communities, as a country, we should be losing sleep over this issue. That is the message I want to get across by broadcasting my program live, non-stop, for 55 hours," explained renowned radio announcer Sergio Faife.  Sergio is a good will ambassador for World Vision in recognition for his contribution to the well being of children throughout the years.
The organization's representative, Eleuterio Fenita, said "We expect this event to contribute towards prompting much more urgency in the efforts to fight this scourge". He added that the expectation is that "Mozambique can get down to implementing the recently approved Government's Strategy for the Elimination of Early Marriage".
The '55 hours for the end of violence against children' live radio programme will feature interviews with victims of early marriage, government officials, civil society representatives, faith and community leaders. It will culminate with a public awareness raising musical concert to be held in one of the local schools in Maputo, on Sunday.
A number of other organizations support the initiative, including the Civil Society Organizations Network, Action Aid, Pathfinder International. Volunteers Services Overseas (VSO) and Men for Change Network (HOPEM). (x)