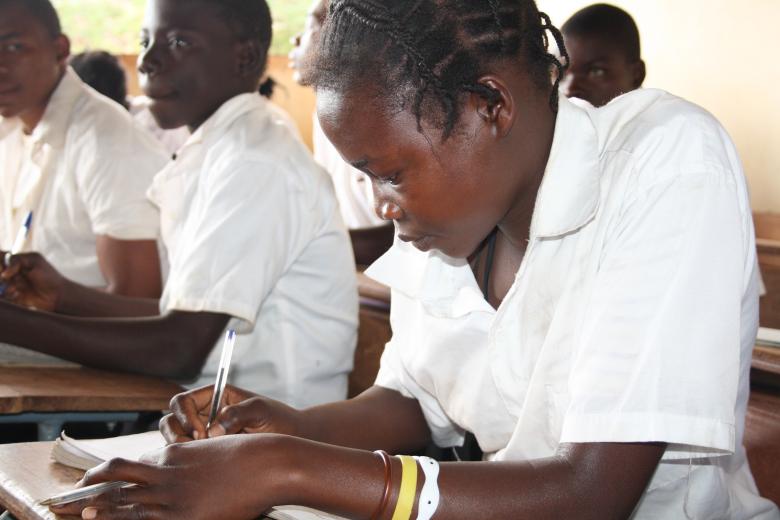 World Vision club saves girl from child marriage
Monday, July 22, 2013
The life of Beatriz Cebola, then 14, was a full promise until she lost her parents. Her mother passed away first and later her father, and she has been the sole provider since age of 13. Since then she has seen her dream turn into troubles, when she was forced by her aunt to marry because the aunt did not have money to take of her. But thanks to a World Vision club of youth, she was saved from early marriage. She can keep dreaming bigger.
Beatriz Cebola, 15 years old, remembers like it was yesterday when her aunt called her to a devastating reality - she would soon be married to an unknown man. She was only 14 year old, trying to complete her 7 grade.

He had come through the door to ask her aunt to marry the child, while she was at school.
"It was horrible feeling. I was upset, praying for not being true what I was hearing. By the time I refused saying I was still young to marry, but my aunt did not care. The decision was taken and end of discussion," Beatriz says.

She could not hide her pain recalling the one of the worst episode of her life.

"I was told I should marry because my parents had died, and my aunt did not have money to support me," Beatriz says. "The man was supposed to pay my bills."

The eight grade student lost her mother when she was only three, the victim of an unknown disease. Later on, at age 13, her father, the sole provider for the family, passed away. Since then she lives with her aunt and life has not been easy.

She talks passionately on her bigger dreams. Her brown eyes light up as she narrates her plans for future.

"I want to be a teacher. I want to educate other children, just the way I am being educated", Beatriz says. "After that, I will think of getting married and have children.

Being a bright student should be a great motivation to keep her learning, but not for her aunt and family.
Her castle of dreams was about to fall. She would be one more victim with broken dreams like thousands innocent child brides and wives in rural Mozambique.

In fact, Mozambique is amongst 10 top worst places for early marriage in the world. Here, according to "Untying the Knot: Exploring Early Marriage in Fragile States," one in two women get married before age 18 and. One in four gets married before 15.

Future at stake: from advocate to a victim

Determined to keep her dreams alive, no matter what challenges she had to face, Beatriz did what a few girls do – look for help.

She went to "Youth with Vision" a club of volunteers supported by World Vision that mobilises community members on issues that affect the child wellbeing. She has been a member of the club for the past two years. The sad thing is that she was not advocating this time, but she was a victim of the circumstances.

"It was easier for me because I trusted them. I knew that was to right place to go because, this is kind of things we do in our community."

Promptly, two members headed to Beatriz´s home to make her aunt change her mind. However, things did not go as expected.

"She was not sensitive to this issue. She kept saying I had grown enough to marry and that was the family decision. No one should intervene," Beatriz recalls." She is the only one who knew what has been through to raise me."

"Within our culture, especially in northern Mozambique, after girls undergo initiations ceremonies, which start at age of 12, they are considered prepared to marry. Because of that, many girls drop out school and get pregnant," says World Vision Child Protection Officer, Gerson Nhancale.

"This is kind of traditional mindsets we are fighting in the communities to make them understand that girls also need to go to school, need the grow their potential," he adds.

"The battle was lost but not the war"

"We went to ask for an advice at World Vision office. I remember the Area Development Programme Manager, Azevedo Alves, called the police officer and asked to take care of case," Beatriz says.

Beatriz´s aunt and other family members as well as the man she was supposed to marry were called for hearing. A decision was taken. Beatriz was released from child marriage, otherwise if the family insisted, they would face justice.

"I felt like I had awakened from the worst nightmare. If I had married, this time probably I would be pregnant and out of school, just like what happens to a lot of girls in our community."

Beatriz is glad for not being one more victim to add to the bad statistics of child marriage. She escaped for child abuse and she can keep living and playing like a child she is. Most of all, she is keeping alive her vision to become a teacher.