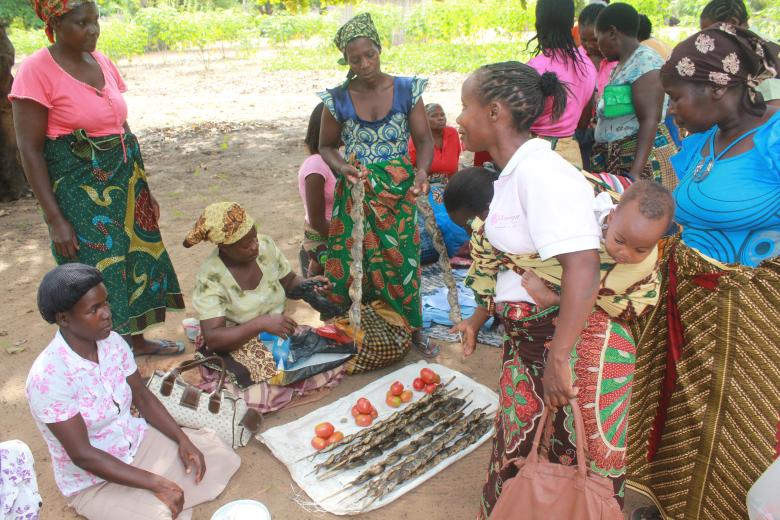 World Vision gets invitation to attend university graduation ceremony
Monday, April 28, 2014
"Since I joined this group, I was able to pay tuition for my children in private universities, two of them are already finishing and about to graduate, as for that I take the opportunity to invite you (World Vision) to attend the graduation ceremony this year" Lucia Cossa, 41, single mother said.
Lucia was exchanging her experience with visitors from World Vision International, Kyhl Amosson and that from the Southern Africa region, Thuli Chapa both responsible for economic development, who landed in Mozambique to witness the impact the Saving Groups initiative brings.
Lucia, joined Saving Group to improve living conditions to her and her family, she is a tomato and cucumber producer, today she is one of the major suppliers not only in the local market Chongoene, but also in the province´s main market in Xai-Xai, the capital of Gaza province.
"I joined the group, saved some money, borrow some and invested it in my farm to produce tomatoes and cucumber, with the profits I can assist the house needs and also pay for my kids private university" says Lucia.
Visitors were taken for a tour to see Lucia's products in the local market and also chat with her main clients.
Chongoene Area Development Program ADP, an Australian funded project was the first to operate in Gaza province and it holds one of the strongest groups and examples of community members who improved their living conditions since the Saving initiative was launched in 2007.
"With the money I save in the group, children are among the beneficiaries, starting from a balanced diet at home, school material and above all time for them to play" answered Lucia when asked how the initiative was benefiting her children.
Similar to Lucia dozens of other women and men shared their experience with the Saving initiatives which is creating a new generation of local entrepreneurs raging from bricks makers, retail business among others.
As an example, Saving Group members are negotiating with local government authorities to install electric power in their community with them covering the expenses the operation will incur, the association of saving groups in a cycle save nearly half million US dollars.