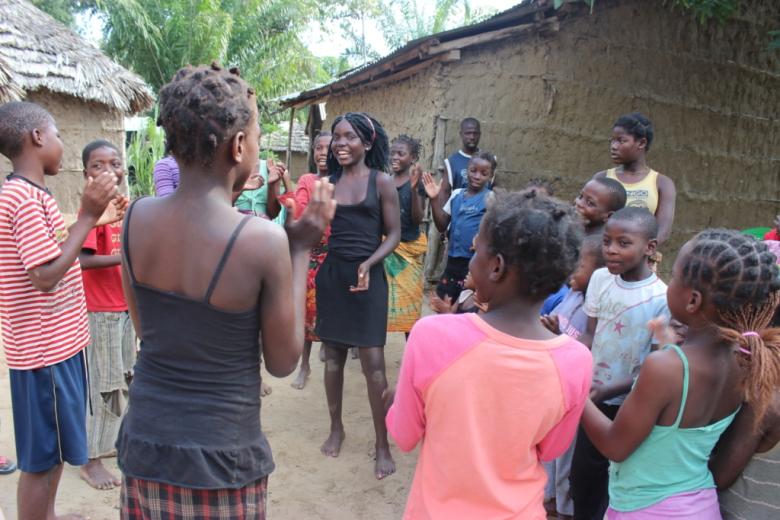 World Vision organizes 'Play festival' to celebrate children's fortnight
Thursday, June 5, 2014
More than 3500 children and their parents temporarily forget that their area is cyclically affected by natural disasters, after being treated to a forever after memory, during the celebration of the international children's day in Gaza province southern Mozambique.
The play festival, under the organization of Chivongoene Area Development Program supported by World Vision Hong Kong, was characterized by soccer games for boys, volley games for girls and special moment for children to speak their mind, telling poems.
A multicolored event, where boys and girls in their uniforms prepared to defend the colors of their school through sports, brought spectators from the surrounding areas to expanding the celebration to the entire community.
"I wish we could have more days like this in our community, I wish everyday was special as this" said Silva a 12 years boy, grade 6 supporting his squad during the soccer match.
The beneficiaries representing more than 10 different schools, from different localities that came together to experience as a family the celebration of the day, the world has dedicated to them.
Chivongoene lies in one of the poorest district of Gaza province, with a population that has to deal with floods, droughts, isolation, limited water sources and long distance to the nearest health center, but during June the 1st no one seemed to remember the challenges the population often goes through.
World Vision daily, collaborating with government authorities and other organizations, minimize those challenges installing new water sources, building new health centers, training and supporting farmers for balanced diet, training community members particularly women for economic empowerment.
  "We demand more protection against road accidents; we demand more education, improved health access because those are our rights" demanded children in a single voice, as they spoke out their concerns, towards the observation of their rights.
World Vision went on supporting the schools with sport material so that children can continue such events or competitions back at school and also provided guitars as a form of supporting music lessons at schools.
"It's something they already have at school, so the best thing we could find to support them all as a group, was giving sports material, (balls and nets for different sports) and guitars for them to develop their music talent at school" said Agostingo Chambule Project Manager.
For the African Child day celebrated every June 16, World Vision will be supported children with disabilities providing wheelchairs as part of its project for children with disabilities. (x)