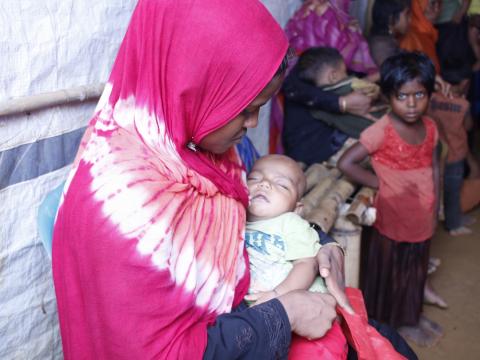 Preventing and treating moderate acute malnutrition in refugee children, mothers in Bangladesh
Tuesday, July 10th 2018
Monira, 18, worries about her two young children, Kaiser, age 3, and seven-month-old Jasmina. This teenage mother is doing everything she can, but it's difficult to keep her children healthy as they grow up in the world's largest refugee camp in Cox's Bazar, Bangladesh. 
Monira's children are among 485,000 living in the squalid, overcrowded camps where outbreaks of respiratory infections, diphtheria and acute jaundice syndrome are already common. During the current monsoon season, flooding and overflowing latrines are increasing the spread of communicable and water-borne diseases.
Child malnutrition here is also a critical problem, according to an emergency nutrition assessment recently conducted by the Government of Bangladesh and UN agencies.
Many refugee children who arrived in the camps last year already suffered from malnutrition caused by poor long-term diets in Myanmar, made worse by the lack of food on their long treks to Bangladesh.
The comparative study reveals that the prevalence of global acute malnutrition has decreased among children now that they have regular access to somewhat better food. However, 37 percent of surveyed children age 6 to 59 months suffer from chronic malnutrition (stunting)—precariously near the World Health Organisation's critical threshold (40 percent). Findings indicate that 13 percent of children have moderate acute malnutrition. Less than 10 percent of children age 6 to 23 months receive a minimum acceptable diet (four of the seven food groups, and three or more meals per day).
"Stunting means that children are under height for their age and may never catch up. Those who are acutely severely malnourished are also nearly 12 percent more likely to die than a healthy child, if they catch an infection or disease," says Colleen Emary, a technical advisor with World Vision's health and nutrition programme. "We are worried that if there is an outbreak of diarrhoea in the camps during the monsoons, many malnourished children will be at risk."
World Vision has just launched a life-saving programme that will prevent and manage moderate acute malnutrition in children age 6 to 59 months and support malnourished pregnant and lactating mothers. It will run daily from early July until end of December in three densely-populated refugee camps (Camp 4, 8W and 10), conducted in partnership with the World Food Programme.
Some 11,200 children will receive monthly rations of Super Cereal, a high-energy supplementary food to help prevent malnutrition. An estimated 3,595 pregnant and lactating women will also receive the monthly rations of Super Cereal, as well as vegetable oil. An additional 5,100 children who are assessed as having moderate acute malnutrition will be given biweekly rations of food and follow-up treatment, as well as 1,061 mothers.
Monira and her children were at the front of the line when the first nutrition centre opened this week (July 3) near her home in Camp 10.
"A volunteer from World Vision told me about the programme and so I came today," says Monira.
On average, 150 mothers and children are seen each day by trained World Vision nutrition staff members. They assessed Kaiser and Jasmina for malnutrition by measuring their middle upper arm circumferences, and weighing and measuring them. Monira is relieved that Jasmina is not malnourished according to the screening results, but she is just on the edge. She will be included in the supplementary feeding programme and will be regularly assessed to prevent malnutrition and make sure she keeps growing well.
At the centre, mothers of children who are not malnourished receive a monthly 1.5 kg ration of Super Cereal to help keep them healthy. Children assessed as having moderate acute malnutrition also receive the fortified cereal and are monitored biweekly.
Emary says training mothers is key to improving child nutrition long-term. "These women have had very few opportunities to learn about good child care and feeding practices," she says. "The programme is training them so that they can care for their children better."
All the mothers participate in cooking demonstrations on how to prepare the supplementary cereal. Getting the consistency of the porridge mixture right is important for children's digestion.
"I am happy to receive the sugee (cereal). I was only feeding my children rice, but now I will give them this cereal. I want them to be healthier and stronger," says Monira.
Monira's neighbour, Jorina, agrees. She brought three-month-old Ayez to the centre's opening day. "I liked the programme very much today. The cooking demonstration was simple and informative," she says. "I am happy that I have nutritious food for myself and my son."
The programme will distribute 812 MT of food in total and is supported by World Vision offices in Australia, Canada, Japan, New Zealand, Switzerland, Taiwan and the UK.
-- ends --