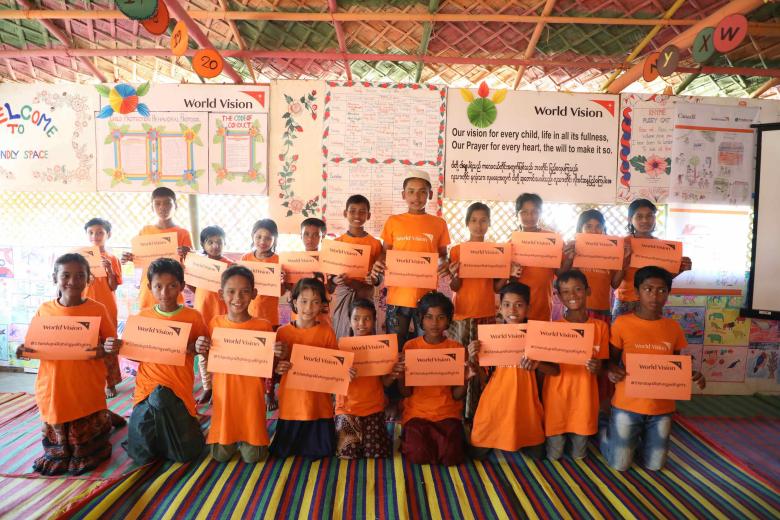 Human Rights Day: Rohingya refugee children campaign for protection from violence
Monday, December 10, 2018
Cox's Bazar, Bangladesh (10 December 2018)—Rohingya children living in the world's largest refugee camp called today for an end to the routine violence and exploitation that they face—including in their own homes. Lacking official refugee status in Bangladesh, they are particularly vulnerable to abuse, trafficking and child marriage. Children are urging that their rights to safety and protection be recognized and protected.
Some 2,700 children participating in a World Vision awareness campaign reported frequent abuse at the hands of parents, strangers and older children. In focus group discussions, both children and parents described incidence of beating, yelling, hitting, name calling, peer-to-peer violence, harassment, forced heavy labour and child marriage as being common in the camps.
"Our parents can save us from all sorts of danger, but they sometimes hurt us, too," said one child during a focus group. "I feel hurt when my mother beats me," commented another.
Children comprise more than half of the almost 1 million Rohingya refugees here. Most are still recovering from the horrific violence that they experienced or witnessed during their terrifying escape from Myanmar 15 months ago. Many are still grieving lost loved ones. But despite being safely across the border in Bangladesh, their fear and anxiety continues.
"I'm afraid of going far from my home in the camp," says Shoshida, 10, a campaign participant. "An elephant or a tiger may attack me. I cannot even go to the toilet outside at night. I'm afraid that someone will attack me."
During their ongoing campaign, children spoke out bravely about the forms of violence they encounter, safe and unsafe places in the camps, as well as who they look to for protection. They named the forests where they must go to collect firewood, food distribution line-ups and crowded markets as dangerous places. Madrasas (religious schools) and World Vision child-friendly centres topped their list of safe spaces, with their homes often being a distant third for some due to domestic abuse.
"In the child-friendly space, I can play and learn," says Jobair, 10. "There is no one to be afraid of there, and that's why I like it."
The young campaigners are urging parents and leaders to protect them physically—and to protect their rights to safety. But changing attitudes about harmful traditional practices takes time, especially given that many Rohingya parents believe that discipline means hitting their children.
"Parents admit that they emotionally and physically abuse their children because of their distress and uncertainty about the future," says James Kamira, World Vision's Child Protection Lead. "They are open to changing their ways. But if we are truly determined to end violence against children, children themselves, their families and their communities must be fully involved in the solutions from the start."
Children and parents participating in the campaign identified child marriage as an urgent concern. Rohingya girls usually get married between the ages of 12 to 16. According to a recent BBC Media Action report, child marriage is seen as survival mechanism and has become normalized in the Rohingya camps where some parents marry off girls at an early age to reduce the "burden" without understanding the long-term risks[1].
World Vision engaged more than 5,300 parents and community leaders in the campaign, including 75 imams who agreed to speak out in their mosques about the risks of child marriage.
Both parents and children also agreed on the need for access to education to help reduce the emotional abuse and other forms of violence. Currently, refugee children do not have access to formal schooling in the camps, and some Rohingya parents don't see the value of keeping children in school past third grade.  
"In my community, when a girl turns 10 years old, we don't send her to school anymore," says Nur Hasima, an influential woman leader. "The same thing happens to boys. That's why we don't know many things and why children are abused."
The children developed their own public messages targeted to parents and camp leaders. Their colourful posters don't mince words: "It should not hurt to be a child; Hands are not for hitting children; We want education, not marriage."
Through the campaign, Rohingya children are now aware of their rights to safety and can better protect themselves and each other.
"Like all children, Rohingya children have the right to protection from all forms of violence, neglect and mistreatment," says Rachel Wolff, Director of World Vision's Refugee Crisis Response in Bangladesh. "On Human Rights Day, we call on parents and community leaders in the camps, as well as governments, donors and concerned citizens worldwide to help ensure that the rights of these refugee children are realized and protected."
MEDIA RESOURCES
Video clips of refugee children speaking about child safety HERE
FAST FACTS
Children comprise more than half of the 900,000 refugees living in Cox's Bazar.
World Vision operates 12 child-friendly spaces in the camps where children benefit from psychosocial care and support in a safe environment.
World Vision has served more than 265,000 refugees since September 2017, delivering life-saving assistance through programmes in child protection, nutrition and food security, as well as water, sanitation and hygiene.
For Interviews: Karen Homer, Karen_Homer@wvi.org, +88 0184 726 4883


___________________________________
[1] "Violence against women within the Rohingya community: Prevalence, reasons and implications for communication", Research Briefing, BBC Media Action, November 2018 pg.6.