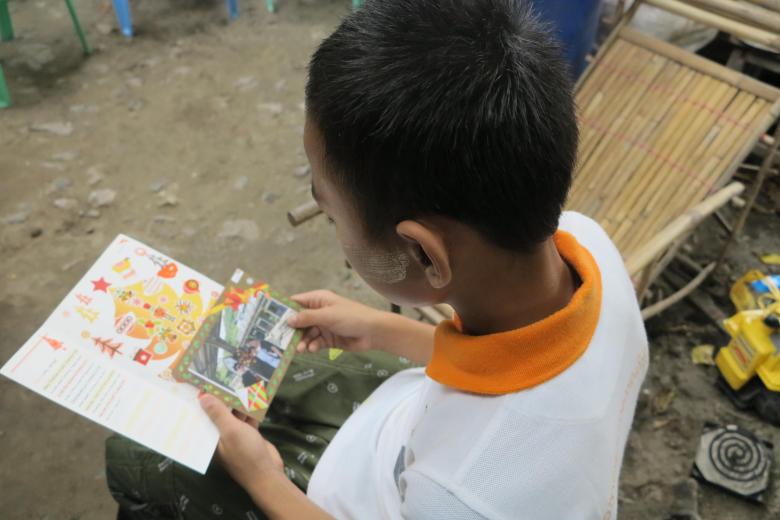 The power of a sponsor's letters
Wednesday, August 24, 2016
After my one and a half hour flight from Yangon, I arrived in Mandalay, the second biggest city in Myanmar. A short drive later, I arrived in a community where many sponsored children live, part of a World Vision programme area.
Although some well off families live in big compounds along the main road, this isn't the case for the nearby homes I visited. From the busy main road, our car turned onto a small, crowded lane. Bricks were piled up on a few sidewalks, waiting to be used for construction.
The car went as far as it could go, and then we walked to reach the homes of the two young boys I planned to meet. The boys, Pyae and Htet, are both sponsored in World Vision programmes. They have good relationships with their sponsors in Korea.
The sweet smells of coconut wafted down the lane as I walked to Pyae's house.
Although the two boys live in different wards, their home conditions are the similar - disadvantaged families, poor housing facilities, and a crowded environment.
The sweet smells of coconut wafted down the lane as I walked to Pyae's house. There was a small home business that makes sweets made from sugar and coconut. Then I noticed the lack of proper drainage along the lanes, which increases the risk of flooding during heavy rain. Without proper drainage, raw sewage can make people sick – children are especially susceptible as they often play in the rain. Additionally, the standing water encourages the breeding of mosquitos, increasing the risk of dengue.
I hiked up a narrow stairway to the house to meet Pyae. The house was about 8' wide and 15' long with no interior walls. Five family members squeeze into this space. The family uses the ground level for cooking and eating, while the upper floor is mainly used for sleeping.
It was daytime but the sun shone brightly despite it being the rainy season. I felt the hot sun heating the space through the steel roofing sheet.
Pyae shared with me how he felt encouraged receiving letters, photos, and small gifts from his sponsor.
I sensed a strong connection between the boy and his sponsor. I wondered why?
His sponsor in Korea is still a student herself, trying to pursue her dreams.
His sponsor in Korea is still a student herself, trying to pursue her dreams. Drawing is their common interest. Their similar struggles in their studies are a source of encouragement for both.
After saying good-bye to Pyae, I proceed to Htet's home. It was another half-hour away by car.
Htet's home is built with bamboo thatch walls and zinc roofing. As it was crowded inside the small structure, we were hosted in front of the house under a big tree.
I noticed the influence of the sponsor's letter to Htet. Every letter and photo was kept safely in a plastic bag. I saw that they were proud to have an acquaintance abroad. They regard the sponsor as their far away family member.
I never realized that the letters from sponsors could be a strong, positive influence in a child's life.
These two boys were lucky to have such strong friendships with their sponsors. However, I also felt sad for the children who never received letters or kind words from their sponsors. I heard from a volunteer that some children were always asking, "Why didn't we receive a letter?"
While I know many sponsors are very busy, I want sponsors to know that their letters and encouragement DO make a big difference for the children they support.