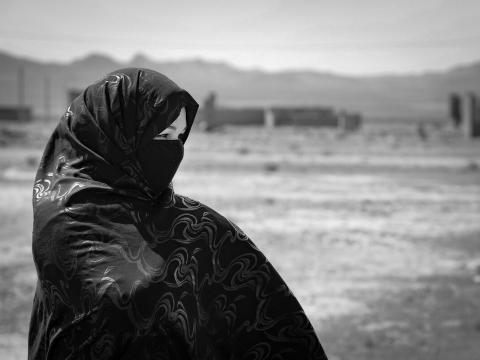 Funding must be converted to life-saving aid or Afghanistan faces humanitarian collapse, warns World Vision 
Tuesday, September 14, 2021
14th September, 2021 - The promise of hundreds of millions of dollars for Afghanistan - made at yesterday's UN ministerial meeting - has been welcomed by World Vision but comes with a warning of humanitarian need plunging into freefall if aid and cash is not immediately made available. 
World Vision National Director Asuntha Charles, who yesterday addressed the UN High-level Ministerial Meeting on the Humanitarian Situation in Afghanistan via video from Kabul, said the financial commitments were essential and came not a moment too soon, given that the current USD$1.3 billion response plan for Afghanistan was 61% underfunded.  
However, she warned that Afghanistan was facing huge economic challenges brought about by the risk of a financial and banking collapse that could send the economy into a tailspin and result in the mass migration of people looking for food. 
Her warnings echo that of the UN Secretary-General António Guterres, who used the high-level ministerial meeting to state that the Afghan economy was running out of cash and needed support.  Without it, neighbouring countries could be destablised by huge outflows of refugees. He also told delegates that the UN had been given written agreements by the Taliban ensuring the safe unhindered access of aid workers to those in need, the removal of any impediments to operations and their commitment to support humanitarian agencies.    
Ms. Charles told delegates attending the UN meeting in Geneva: "A statistic that I am sure keeps many of us awake at night is that 2.7m people face starvation if they do not urgently receive food. Young children are at the greatest risk…. staff are telling us that twice as many people are coming to our mobile health and nutrition clinics as before. Almost half the children attending are malnourished." 
Reflecting on the meeting she said World Vision, along with other agencies on the ground, would engage with the de facto government to see that assurances were being kept across the country, so that the full range of humanitarian programmes could get up and running again with the participation of the female work force.  
"There is no time to lose. We must roll out life-saving operations – food, water, emergency nutrition, and critical health support – otherwise we will see the numbers of people dying rapidly increasing.  Winter is coming and we need to get food into the country and into remote areas.  At least one million children are acutely malnourished and need food." 
World Vision, along with other agencies attending the meeting, called on governments for full funding of the UN's USD$1.3bn humanitarian response appeal and an additional tranche of USD$193m for life-saving work.  They also pressed home the point that a women's right to work must be central to humanitarian and development operations and that girls and women must have equal access to aid.  And they demanded full humanitarian access across the country. 
World Vision's largest food assistance partner – the UN World Food Programme – warned that aid supplies had to get into tough-to-access locations before winter sets in or huge numbers of people could face death. There are currently 18.4 million people in need of humanitarian assistance – around half the country - with more than 30% of the population facing emergency or crisis levels of food needs.   
Guterres told the ministerial meeting: "The people of Afghanistan need a lifeline. After decades of war, suffering and insecurity, they face perhaps their most perilous hour. Now is the time for the international community to stand with them."   He also announced a USD$20 million allocation from the UN's Central Emergency Response Fund to support the humanitarian operation in Afghanistan. 
The UN's coverage of the meeting can be found here.   
Notes to editor:   
For more information please contact:   
Niamh Cooper |  Director of Media and Social Media Engagement | niamh_cooper@wvi.org | Skype: Niamh.cooper5 | Phone: +353 87 942 3371
World Vision is a Christian humanitarian organisation dedicated to working with children, families and their communities to reach their full potential by tackling the root causes of poverty and injustice. World Vision serves all people, regardless of religion, race, ethnicity or gender.  For more information, please visit www.wvi.org or follow us on Twitter @WorldVision