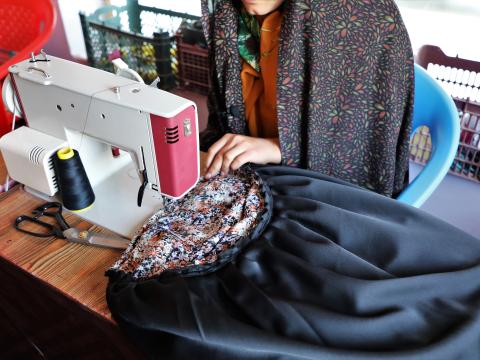 "Girls are heartbroken to still be barred from schools in Afghanistan, as their brothers return" - World Vision
Thursday, March 23, 2023
THURSDAY, MARCH 23, 2023
World Vision Afghanistan have described the country's girls as "heartbroken" after many could not return to school today, the start of the school year. Afghanistan's de facto authorities' Ministry of Education, in a notice issued on 19th March 2023, announced that new school year will begin on 21st March – however this notice did not provide clarity on girls' education above grade six, one year after the ban was introduced. Afghanistan is currently the only country in the world where girls are restricted from attending full time education from grade six. As the result of the restrictions, 1.1 million girls have been prevented from continuing their education since March 23, 2022.
Asuntha Charles, World Vision Afghanistan's National Director says:
"Girls have been left heartbroken, to see their brothers return to school after the winter holidays, only to find out they are still not allowed to return."  
"Two decades ago, many Afghan women did not have the opportunity to get an education at all – even primary education – but had dreams for their daughters to get an education, have better employment opportunities and build a better future. These girls had dreams that their mothers, and grandmothers, dared not dream. Banning these girls from education means destroying the dreams of many generations of Afghan women and girls."
"Since Afghanistan is already facing the world's largest humanitarian crisis, preventing girls from education will contribute to worsening the crisis. An estimated 8.7 million people need education assistance in this country."
"Girls have been left heartbroken, to see their brothers return to school after the winter holidays, only to find out they are still not allowed to return."  
World Vision Afghanistan has been continuing to support and advocate for violence-free school initiative, inclusive education and life skills to ensure safe formal and non-formal learning settings. World Vision Afghanistan are also working to strengthen girls' right to education. 
Through its education interventions, World Vision Afghanistan are providing services in four western provinces of Afghanistan.
Our education activities include:
Providing learning opportunities through community-based education classes;

Providing learning opportunities through early childhood development centres;

Establishing and supporting School Management Shuras (councils);

Equipping and training teachers.
Over 119,035 children and 22,640 adults benefited from World Vision's education activities between October 2021 and September 2022.
ENDS
Notes to Editor 
World Vision began emergency relief operations in Afghanistan in 2001, addressing humanitarian needs of children and their families affected by conflict and natural disaster. Over 20 years later, World Vision Afghanistan continues to partner with communities to provide humanitarian response alongside early recovery, resilience, and development initiatives in the western provinces of Herat, Ghor, Badghis and Faryab. World Vision Afghanistan programming prioritizes maternal and child health, nutrition, WASH (Water, Sanitation & Hygiene), livelihood and food security, education, child protection and multi-purpose cash programming. World Vision works in collaboration with communities holistically to respond, comprehensively meet basic needs, and promote recovery, resilience and community development.
For further information or to organise an interview, please contact: Charles Lawley, WV Afghanistan Interim Advocacy Lead, at charles_lawley@wvi.org.