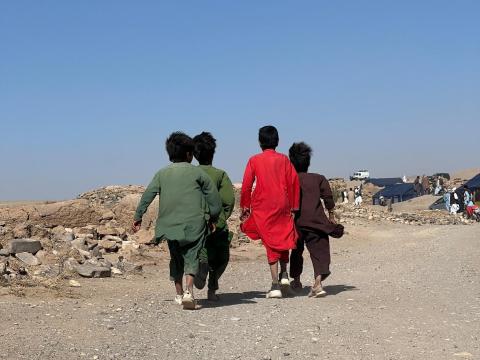 World Mental Health Day: World vision Flags Impacts of Herat Quakes on Children
Tuesday, October 10, 2023
10 October 2023, World Vision Afghanistan 
On World Mental Health Day, World Vision Afghanistan, a child-focused aid organisation headquartered in Herat, has highlighted the growing risks faced by children after this weekend's earthquakes, the aftershocks of which are continuing. 
WV Afghanistan's National Director, Thamindri De Silva, said: 
"We are grieving this week. Yesterday I visited a village which is now home to only three survivors out of its 900 residents. From a distance all we could see were piles of rubble where houses once stood, and piles of stones acting as markers where the dead were buried. 
"Yet, in the midst of this devastation, young children amaze me. We drove by roadside communities living in tents located next to piles of stones marking the dead, while children wove round the tents and the stones playing as if the earthquakes had never happened. Children turned up almost wherever we went, they were curious to see a group of strangers visiting them in their new blue tents. The only place that met us with silence was where so many children died either in their classroom or at home with their mothers. In another village of 800, over 138 died, mostly women and children.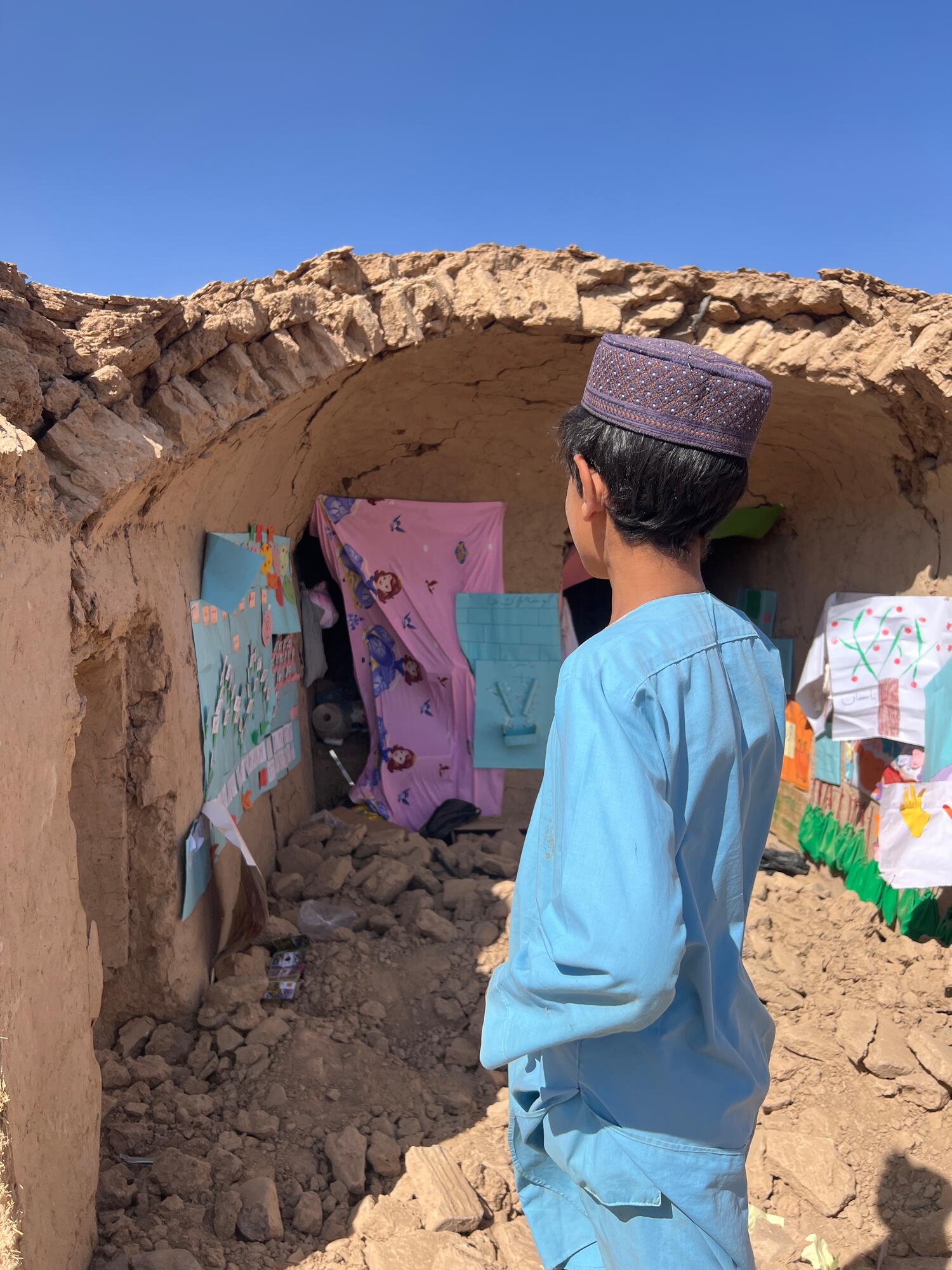 "The question on everyone's mind is what happens this winter? There needs to be enough time for communities to mourn, reflect and move on and time is not on their side.  
"Our staff are torn between their desire to help affected communities and meeting the needs of their own families who are also victims of this quake. So many do not know how to speak to their young children about why their homes shook that day.  
"A colleague described how a father clutched the hand of his young son as they made their way towards a community distribution. A few moments later they returned with a single piece of bread in their hands. The rest of their family had died and the two were left to piece together a future. 
"The people of Herat in western Afghanistan have endured much over recent decades, but the devastation of this weekend's earthquakes is unprecedented, and the effects will be felt long into the future by children whose lives will forever be shaped by those singular moments. 
"16 villages have been badly affected around Herat; some have been wholly destroyed while others sustained severe damage. Herat Provincial Hospital is overwhelmed, and the area remains cordoned off with high security and restricted access.  
"Initial assessments indicate that a disproportionate number of the fatalities are women and children. In Afghanistan, most women would have been in their homes on a working/school day. 
"World Vision Afghanistan has a team of f highly capable and dedicated humanitarians, most of whom are local. With the epicentre only 25 miles from our office, my colleagues and I have been personally affected. Even those who have escaped direct loss describe their frightened children unable to sleep, and many have spent the nights outside in parks.  
"Then by day, they join teams responding in communities where everyone has lost loved ones, sustained injuries, or seen their homes and property destroyed. Our teams returned devastated by the damage to entire villages. Some were completely evacuated, while others with partial destruction were still animated by people burying their dead. Incongruously, a smattering of children played in areas of near wholesale destruction while looking for their friends who, in their words, have 'disappeared'.   
"These are our neighbours whose urgent needs require an urgent response: medical care, water, food, shelter and help to stay safe. We are coordinating closely with other organisations to deliver this assistance.  
"But we are conscious too of the longer-term needs such disasters create, from serious mental health impacts through to a worsening of an already dire humanitarian situation. Children will be especially badly affected.  
"Prior to the earthquakes, over 29.2 million Afghans were in need of humanitarian assistance due to climate change-related shocks, such as drought, and a struggling economy after decades of conflict and governance challenges. The international response, however, has been pitifully inadequate, and this disaster simply plunges more people into a category of humanitarian need that the international community has so far proven unwilling to address.  
"Still, in Herat's over 2500 years of existence its people have overcome much. It is and will long remain associated in the minds of Afghans with the poetry, art and architecture of its golden eras, and I am witnessing at first hand the extraordinary attitude of my colleagues as they stand with each other and help each other in this difficult moment. I learned this firsthand this morning as many who had spent the night outside or in tents with their young children came to work on time in neatly pressed clothes ready to help in the communities around the province. We keep this rich history of resilience in mind as we help the people of Herat to process their loss, recover their communities and livelihoods, and extend hope and a future to their children who have survived this unexpected new challenge in their already difficult lives."   
ENDS 
Notes to editors  
Herat experienced four earthquakes (5.5-6.3 magnitude) on the morning of Saturday 7 October 2023, with their epicentre 25 miles from Herat 

Over 25 aftershocks have been counted through Saturday, Sunday, and into Monday 9 October  

Media Sources Sunday are quoting an estimated total of over [2,500] fatalities and [9,000] injured with numbers rising by the hour.  
World Vision is the world's largest child-focused development organisation, active in over 100 countries. World Vision began emergency relief operations in Afghanistan in 2001, addressing humanitarian needs of children and their families affected by conflict and natural disaster. Over 22 years later, World Vision Afghanistan continues to partner with communities to provide humanitarian response alongside early recovery, resilience, and development initiatives in the western provinces of Herat, Ghor, Badghis and Faryab. World Vision Afghanistan programming prioritizes maternal and child health, nutrition, WASH (Water, Sanitation & Hygiene), livelihood and food security, education, child protection and multi-purpose cash programming. World Vision works in collaboration with communities holistically to respond, comprehensively meet basic needs, and promote recovery, resilience and community development.  
For further information or to organise an interview, please contact Mark Calder: mark.calder@worldvision.org.uk +44 7877 243509