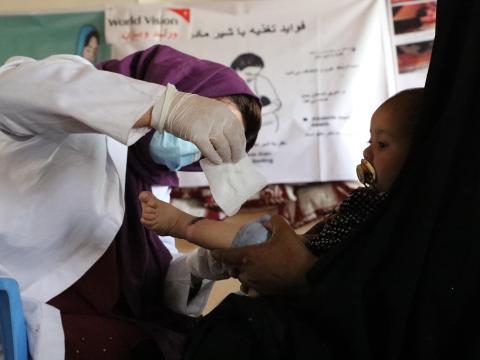 World Vision Afghanistan, temporarily suspends operations and expresses bitter disappointment at decision to ban women from working at NGOs
Saturday, December 24, 2022
World Vision, one of the world's leading child-focused NGOs (Non-Governmental Organisations), has released a statement calling on the de facto authorities in Afghanistan to reverse their decision to ban Afghan women from working at NGOs. Whilst it remains unclear how it will impact World Vision Afghanistan's programming, a decision has been made to temporarily suspend operations to ascertain the impact on the organisation.
Asuntha Charles, National Director of World Vision Afghanistan, says:
"This decision is not in the interest of the people of Afghanistan. With the current humanitarian crisis gripping all of Afghanistan, we need more people working in NGOs to help alleviate the situation here, not less. This decision will only significantly worsen the reality here. Every individual, regardless of gender, should have the same opportunity to work for humanitarian aid and development organisations, or any industry.
"Whilst all Afghans will be detrimentally impacted by this, women and girls who benefit from gender and culturally sensitive NGO programming will be disproportionately affected by this decision. World Vision Afghanistan call on Afghanistan's de facto authorities to reconsider the scale of the damage this decision will have and reverse it immediately.
"World Vision Afghanistan will be temporarily suspending operations whilst we ascertain the scale of impact this will have on our ability to deliver our life-saving work, on which millions of Afghans depend."
ENDS
Notes to Editor  
World Vision is a humanitarian and development organisation dedicated to working with children, families and their communities to reach their full potential by tackling the root causes of poverty and injustice. World Vision serves all people, regardless of religion, race, ethnicity, or gender.  For more information, please visit www.wvi.org or follow us on Twitter @WorldVision.  
World Vision began emergency relief operations in Afghanistan in 2001, addressing humanitarian needs of children and their families affected by conflict and natural disaster. Over 20 years later, World Vision Afghanistan continues to partner with communities to provide humanitarian response alongside early recovery, resilience, and development initiatives in the western provinces of Herat, Ghor, Badghis and Faryab. World Vision Afghanistan programming prioritizes maternal and child health, nutrition, WASH (Water, Sanitation & Hygiene), livelihood and food security, education, child protection and multi-purpose cash programming. World Vision works in collaboration with communities holistically to respond, comprehensively meet basic needs, and promote recovery, resilience and community development.
Afghanistan: A Children's Crisis provides an analysis of recent data on the humanitarian situation in Afghanistan and combines it with new primary research from four provinces – Herat, Ghor, Faryab and Badghis – along with the testimonies of children and their families, who describe, in their own words, how the worsening situation in Afghanistan is impacting them.
Representatives of World Vision Afghanistan are available for interview. For further information or to organise an interview, please contact: Leah Donoghue, Director - Communications and Advocacy for World Vision Middle East and Eastern Europe at Leah_Donoghue@wvi.org