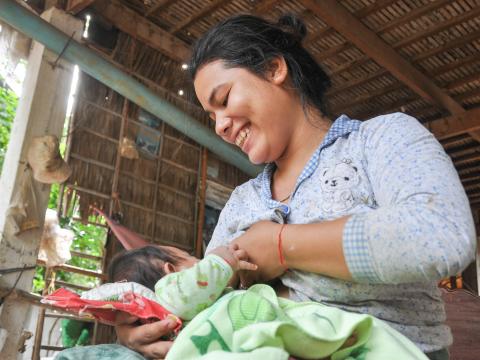 Breastfeeding: The best nutrition that money can't buy
Tuesday, September 3, 2019
If you have recently welcomed a new member into your family, you know that being a new parent means facing an endless list of new challenges and doubts. Why is my baby not sleeping at night? Is he or she hungry or just tired? Is my baby gaining enough weight? These can be overwhelming, and most of the time, there is no easy solution or clear answer.
However, there is an area for which science tells us there is no doubt: when it comes to nutrition, breastfeeding is the best. All studies show that breastfeeding is a critical source of nutrients, protects against diseases and has a significant impact on children's health and development, which continues into adulthood.
If breastfeeding is best for children, and if the evidence is strong, why is exclusive breastfeeding declining in Cambodia? To answer this question, we need to look at the bigger picture. In 2000, only 11% of Cambodian children were exclusively breastfed, meaning fed breastmilk alone for the first six months of life, and it was having a devastating impact on their development. To address the issue, the Royal Government of Cambodia, the NGO sector and UN organizations launched a vigorous media campaign.
All over Cambodia, new parents received timely and adequate information about the nutrition of their infants and support to help them initiate and continue breastfeeding. As a result, from 2000 to 2010, the percentage of Cambodian babies under six months breastfed exclusively rose from 11% to nearly 75%, one of the highest in the world. This achievement was probably one of the most important nutrition-related successes in Cambodia's recent history. It is difficult to find other countries anywhere in the world that has been so successful.
However, a 2014 study showed that the country had stopped making progress, with exclusive breastfeeding under six months down to 65%. Other more recent studies have since confirmed this drop in the rates of exclusive breastfeeding.
How do we explain this decrease? One of the key reasons is the increased use of formula milk or breastmilk substitutes (BMS) driven by aggressive marketing from breastmilk substitute producers and retailers. The improper use and preparation of breastmilk substitutes put children at risk of disease and inadequate nutrient intake. Also, it can be costly, and it does not offer all the benefits of breastfeeding.
Despite this, the use of BMS is rapidly expanding across ASEAN countries, and Cambodia is no exception. Aggressive marketing is one of the key reasons why so many parents feel compelled to spend money. They couldn't afford for products that are not the best choice for their children.
Targeted with unsubstantiated claims that formula milk is better than breastmilk, parents start doubting the benefits of breastfeeding and wondering what is best for their children. While the Royal Government of Cambodia long ago introduced legislation to regulate this – Sub-Decree 133 on the Marketing of Products for Infant and Young Child Feeding – these confusing adverts have become a common feature of many pharmacies and supermarkets throughout the country.
To address this unethical marketing of formula milk, the Royal Government of Cambodia has taken several decisive actions. Companies have been warned and in some cases, sanctioned, and new investigations are underway. The Government, supported by numerous partners, has also strengthened its campaign to raise public awareness around the benefits of breastfeeding, starting with the celebration of World Breastfeeding Week. This year, the message could not be more relevant: "Empower Parents, Enable Breastfeeding". These efforts should continue if the confusion created among the public is to be corrected.
In the end, new parents want the best for their children; all they need is the right information to make the right decisions. When it comes to nutrition, one of the most severe concerns for new parents, the evidence is there to provide them with a clear and definitive answer. For World Breastfeeding Week, let's ensure this message reaches them so they can have one less thing to worry about during their sleepless nights.
A joint Op-ed by: Vannary Hun, Technical Lead for Nutrition at World Vision International Cambodia and Jeremy Mair, Program Support Officer at Helen Keller International