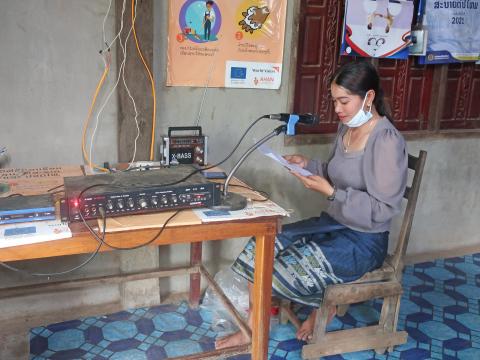 International Day of Rural Women: how Nalivanh is building resilience during COVID-19
Wednesday, October 13, 2021
It's 7:00am, 1,482 villagers from Hadsati community in Attapeu province are listening to a familiar voice and announcement. Indeed, Nalivanh's allocution is entering in all 358 households every morning since the beginning of the "new normal", through the loud speakers installed in the village.
In normal times, Nalivanh would be taking care of the rice fields and animals she raises with her husband, as the main source of income for them and their three children. The 29-year-old mother is a Village Health Volunteer (VHV) for five years now, and when COVID-19 hit Lao PDR, she saw her daily routine changed:
COVID-19 made me want to work harder to ensure the families in my village know how to protect themselves.
While she usually worked two or three days per week as a VHV, the need of information related to COVID-19 led her to conduct daily messaging on updates preventions and information. Number of cases recorded country-wide and in the province, promotion and awareness on the upcoming vaccination campaign, radio spots reminding households of all protective behaviors. Nalivanh's bulletin is essential to keep the villagers well and accurately informed: "I mainly relay the information provided by the Ministry of Health, as well as materials supported by the project".
This essential activity would not have been possible few years ago. Back in 2019, when the Accelerating Healthy Agriculture and Nutrition (AHAN) Project started its implementation, the health volunteer was clueless witnessing the struggles of her community and its poor hygiene and health status: "most of the people in the village did not have toilets and equipment to practice good hygiene" she says. Over the last two years, the project funded by the European Union as part of Team Europe's global response to the COVID-19 pandemic worldwide and led by World Vision has transformed her village and her life. Nalivanh was trained by the project on several subjects to develop her knowledge on health and make her feel more comfortable in her role of VHV. Among others, she is now able to organize water and sanitation awareness sessions, which turned out to be crucial in the midst of COVID pandemic.
In response to COVID-19, the project supported Nalivanh's village with the provision of loud speakers and radio systems to allow the village health worker to deliver her now famous daily speech. A village signboard has also been installed and displays IEC materials, to better disseminate good hygiene practices messages and other information linked to COVID-19. Buckets containing 100L of water and soaps are now available all over the village, facilitating the handwashing practices. Through the Community-Led Total Sanitation activity, households are encouraged to build their own latrines, with the objective for the village to be declared Open Defecation Free. Now equipped with knowledge and tools, Nalivanh and her community are more confident than ever to face the pandemic.
However, like billions of people over the world, COVID-19 has impacted Nalivanh's personal life and the routine of her household. While she doesn't deplore any loss of income from the farm, her assignments made her spend less time with her children, also affected by the situation. "During the COVID-19 lockdown, the schools have closed. My children feel bored and they would like to go out to play with friends." says Nalivanh. Despite those new challenges, the super mother will always find time for them: "I try to teach their lessons at home, and take them to the farm with me, to show them how to water vegetables and to feed chicken".
While COVID-19 disruptions continue to affect the world, the community of Hadsati village, in Attapeu province, is finding reassurance every morning at 7am, listening to Nalivanh's COVID-19 updates. They know they are well informed and aware of the risks they face. On the other hand, Nalivanh knows she has a strong support in her efforts against COVID-19.
For Nalivanh and her children, and for rural women in Southern Laos and their communities, the European Union and World Vision are committed to integrate COVID-19 response into the ongoing activities of the AHAN Project, to ensure building a brighter future, especially for the most vulnerable children.