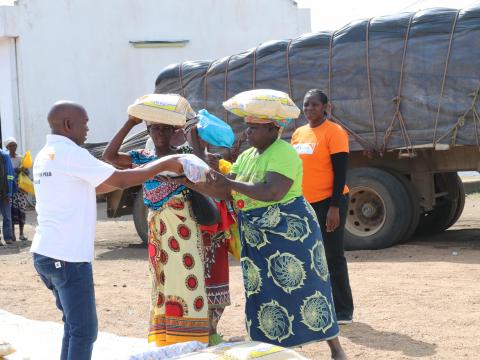 One year after Cyclone Idai: World Vision reaches out to 1.5 million survivors
Friday, March 13, 2020
Beira, Mozambique: A year after deadly Cyclone Idai struck Mozambique, Zimbabwe, and Malawi leaving a trail of destruction, World Vision and partners has provided life-saving assistance to 1.5 million survivors, and continues working with affected communities who are struggling to recover.
Whilst significant progress has been made, the needs of many children caught in the disaster remain unmet, particularly with regards to education and Water, Sanitation and Hygiene.
In Mozambique, 100,000 people are living in resettlement sites with very limited access to essential services.
World Vision's Director for the Southern Africa Cyclone and Floods Emergency Response, David Munkley, says while he is proud of what has been achieved so far, there is more to be done to ensure full recovery. "While we celebrate the great work World Vision has done providing immediate needs which enabled the affected people to take the necessary steps to rebuild their lives, we need to acknowledge that there is more to be done. There are people who lost their breadwinners, their assets and are reeling from this unimaginable catastrophe." Munkley pledged that "World Vision will continue working with communities until they are able to rebuild their lives and carry on by themselves".
In the meantime, concerns are growing as adverse weather conditions hamper community efforts to produce food. Flash floods in the central region of Mozambique have already destroyed crop fields thus compromising the next harvest in the provinces of Zambezia, Sofala, and Manica. Since most local communities rely on subsistence farming, this is likely to affect their food security further.
"Forecasts indicate that disasters will happen more frequently, and the challenge is to find long-term solutions for communities. The question that we are grappling with is how we shall preserve the gains that we have made so far? This requires support from the international community," Mr. Munkley adds. ____________________________________________________________________________
Media Contact:
Antonio Matimbe, +258 845363469