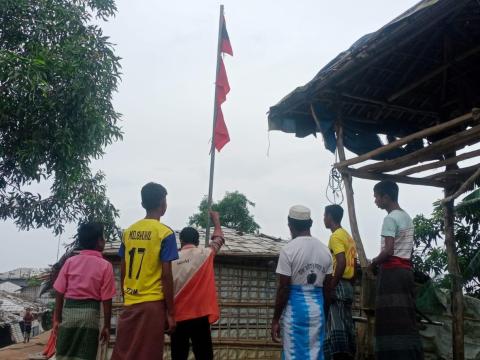 Cyclone Mocha threatens safety of thousands of children in world's largest refugee camp 
Friday, May 12, 2023
Bangladesh, 13 May 2023 - Cyclone Mocha is expected to bring heavy rain and flooding along the coasts of Cox's Bazar in Bangladesh, posing severe threat to the safety of children and communities in danger zones along coastal and low-lying areas.    
World Vision is on high alert and ready to activate anticipatory action and provide emergency relief essentials to help families prepare for the cyclone and mitigate the risk of loss and protect lives of children and communities. Child protection is of utmost importance as children are at risk of displacement, malnutrition, trafficking, and contracting illnesses.     
"WV Bangladesh Rohingya Crisis Response team in Cox's Bazar and Bhasan Char is closely working with the government, UN organisations, ISCG, local partners, and other INGOs to ensure prepositioning, mitigation, and evacuation plans are in place. Cyclone Shelters in Khurushkul, Nuniarchara, and Chowfaldandi are ready to accommodate affected people including children. Prepositioned supplies, hot meals, and dry food distribution are planned to support the needs of the vulnerable children and families in Rohingya camps, Bhasan Char, host and local communities" said Fredrick Christopher, World Vision Bangladesh Rohingya Crisis Response Director.   
World Vision Bangladesh is providing humanitarian assistance in disaster-prone Cox's Bazar, serving 21 Rohingya camps and managing long-term area programmes and grants programmes in 4 Upazilas – Ramu, Teknaf, Ukhiya and Moheshkhali within host communities, serving 498,906 Rohingya people and 200,000 host community members. World Vision works in 11 coastal districts and 25 Upazilas, serving 44,852 children. World Vision is also concerned that the impending monsoon season and the threat of COVID-19 transmission can make the situation worse in overcrowded camps – making water, shelter, and protection all the more critical. Over the years, the Rohingya refugees remain at risk, and their future is uncertain. Without recognised refugee status in Bangladesh or legal citizenship in Myanmar, they are more vulnerable to deadly storms and other climate emergencies.    
Meteorological reports share that Cyclone Mocha is initially expected to track north-northwestwards until Thursday, then gradually recurve north-northeastwards, and eventually make landfall between Bangladesh and Myanmar around Sunday, May 14. Regional fishing, shipping, tourism and other offshore activities have all been suspended for the week.    
"The looming cyclone is an impending threat that can cause widespread destruction, particularly to thousands of shelters, food distribution sites, and clean water and sanitation facilities. This poses a significant risk to the lives of thousands of children and their families. While we are preparing our emergency response teams, we are also praying that the cyclone would pass with minimal damage, and we are committed to ensure the safety and wellbeing of the affected children and their communities," said Chandan Z. Gomes, Senior Director of Operations, World Vision Bangladesh.  
Spokespersons on the ground:   
 Frederick Christopher (in Cox's Bazar, GMT +6)  
Response Director, WV Bangladesh Rohingya Crisis Response   
Bio: https://storyhub.wvi.org/Share/08p3k625s684hcb2pm858t86gk831ll2   
 Chandan Gomes (in Dhaka, GMT +6)  
Senior Director - Operations and Program Quality, WV Bangladesh   
Bio: https://storyhub.wvi.org/Share/4l758qvj54262v61j548883tkq84fl64  
For arrangements with media, please contact:   
George Sarkar (in Cox's Bazar, GMT +6)  
WVB Rohingya Crisis Response Donor Relations and Communications Manager   
georgesarkar@wvi.org | +88 01711 814445   
 Tanzia Amreen Haq (in Dhaka, GMT +6)  
WVB HEA Communications Specialist  
tanzia_amreen_haq@wvi.org | +88 01730 070706