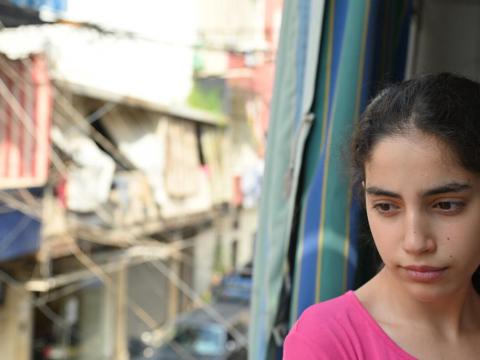 Beirut children more vulnerable to COVID-19 in explosion aftermath
Friday, August 14, 2020
As families grapple with the aftermath of the Beirut explosion and a collapsing economy, children are now even more vulnerable with daily COVID-19 cases in Lebanon reaching new highs.
More than 300,000 people are homeless after the blast ripped through the city last week, killing at least 220 people and injuring more than 6,000. Lebanon has since recorded one of its highest number of daily COVID-19 cases on Tuesday, with more than 300 cases registered. Lebanon has so far had more than 7,400 cases of COVID-19.
World Vision staff responding in Lebanon warn that with 80,000 children[1] displaced into the crowded homes of relatives, friends and shelters this is a potential driver for new infections.  In addition, hospitals are under massive pressure to deal with those injured by the blast and would be unable to cope with a surge in COVID-19 cases. Personal protective equipment (PPE) was also lost in the blast and water systems damaged, making it harder for people to stay clean and clear of viral transmission.
"People are on the streets, cleaning up and re-connecting with and supporting loved ones after surviving the blast. Hospitals that were already under pressure dealing with COVID-19 patients are now also inundated with people severely injured by the blast. Understandably, people are doing what needs to be done but the aftermath has created the perfect storm to increase the risk of the virus spreading," said World Vision Lebanon's National Director, Hans Bederski.
"Spiralling COVID-19 cases would be the last thing the country needs right now but unfortunately, that's the situation we are confronted with," he added.
World Vision is securing PPE and has started providing food, hygiene kits, shelter and psychosocial support to people in some of the neighbourhoods worst-affected by the blast.
The international NGO will also support efforts to repair homes, which will provide vital economic opportunities for locals who are suffering from the collapse of the economy and the household damage.
Lebanon is also hosting the world's largest number of refugees per capita due to the decade-long Syrian civil war.
"We are working in an extremely complex situation and the Beirut blast has only exacerbated the risks for children. Not only are many children struggling to cope with what they have witnessed, but they're also worried about their future and where they'll get their next meal from," said World Vision Lebanon's operations director, Rami Shamma.
"That's why we are urgently providing assistance to 120,000 people, to help meet basic needs. This is no easy task, with roads still blocked by rubble, the search for bodies still on-going and a lot of infrastructure damaged. All while staff are recovering from their own loss and injuries and contending with the threat of COVID-19."
To donate to World Vision's response go to www.wvi.org/lebanon/beirut-explosion
ENDS.
Notes to editors:
For further information or to organise an interview, please contact:
Niamh Cooper |  Director of Media and Social Media Engagement | niamh_cooper@wvi.org | Skype: Niamh.cooper5 | Phone: +353 87 942 3371
World Vision is a Christian humanitarian organisation dedicated to working with children, families and their communities to reach their full potential by tackling the root causes of poverty and injustice. World Vision serves all people, regardless of religion, race, ethnicity or gender.  For more information, please visit www.wvi.org or follow us on Twitter @WorldVision
World Vision has been working in Lebanon since the onset of the civil war in Lebanon in 1975 and continues to assist Lebanese families in addition to refugee communities through emergency relief, development projects, as well as advocacy.
[1] UNICEF