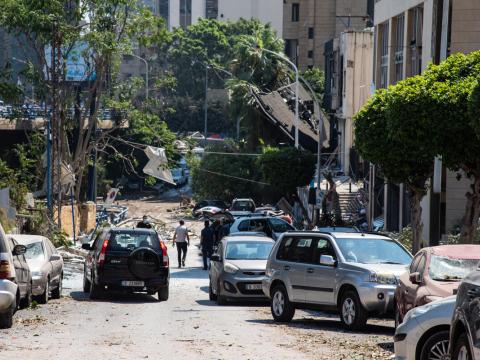 Children in desperate need of food, shelter and psychological support following deadly Beirut explosion -World Vision
Thursday, August 6, 2020
·       World Vision aims to reach 120,000 individuals with immediate support
·       USD $5 million needed for the child focused aid agency to respond
·       Fears that port damage will severely impact long term food assistance plans
Child focused aid agency, World Vision, is calling on the international community to immediately respond and ensure families and children, who have been left on the streets following Tuesday's deadly blast, can access shelter, food and hygiene supplies.
The explosion has decimated areas where World Vision has had a presence for more than a decade. The agency has conducted a rapid needs assessment and aims to reach 120,000 individuals with immediate support. This includes food, household items, hygiene supplies. The provision of alternative short-term accommodation and simple household repairs is also a priority right now. The NGO is however, extremely concerned that damage to the port will impact its ability to provide food assistance in the long term. 
"Before the explosion part of the assistance that we were providing was the provision of food packages. Most non perishable foods are imported goods and the majority of them were coming through the port. The explosion severely impacts our operations and our ability to continue to provide food assistance to the most vulnerable. Once the stocks that are already in the country have run out, getting new stock into the country will be extremely difficult," said Hans Bederski, National Director at World Vision Lebanon 
The international aid agency is providing psychological first aid for children affected by the explosion and is greatly concerned about the immediate and long-term impacts this explosion will have on children.
"It breaks my heart what happened in Beirut on Tuesday. What's even worse is that children will never forget the magnitude of the destruction and the shock caused by this tragic event" said World Vision staff member, Charbel El Khoury.
More than 130 are dead, 5,000 injured and an estimated 300,000 have been made homeless. Many families have sought shelter in community and administrative buildings and some have nowhere to go.
World Vision Field Operations Director for Lebanon, Rami Shamma, has been on the ground surveying damage and assessing need "Seeing the level of destruction took me back to previous experiences of wars and periods where we had violent clashes and assassinations. The scale of impact of the explosion is hard to imagine."
"People are still in shock until now, walking around the streets and surveying the debris of their houses and shops. It is clearly visible that they don't know where to start from. It is just heartbreaking. However, I also saw people carrying brooms, gloves, buckets, water bottles for distribution and cleaning the houses/streets. This sense of solidarity brings hope to me. We will be able to come out of this," he said.
The disaster comes at a time when Lebanon is in the midst of an economic crisis, experiencing a rapid increase in COVID-19 cases and supporting a large refugee community. Lebanon hosts the largest number of refugees per capita in the world, with a Government estimate of 1.5 million Syrian refugees, some 20,000 refugees of other origins, in addition to the Palestine refugees under UNRWA's mandate.
"In order to respond adequately and support children and families in desperate need in Lebanon we will need to raise USD $5 million. We are calling on international donors and the general public to support our appeal to raise funds; so that we can help the community rebuild and recover. The people of Lebanon have suffered enough. They are strong, but they need the world's support to survive this tragedy. " said Mr. Shamma.
To donate to World Vision's response go to www.wvi.org/lebanon/beirut-explosion
ENDS.
Notes to editors:
For further information or to organise an interview, please contact:
Niamh Cooper |  Director of Media and Social Media Engagement | niamh_cooper@wvi.org | Skype: Niamh.cooper5 | Phone: +353 87 942 3371
World Vision is a Christian humanitarian organisation dedicated to working with children, families and their communities to reach their full potential by tackling the root causes of poverty and injustice. World Vision serves all people, regardless of religion, race, ethnicity or gender.  For more information, please visit www.wvi.org or follow us on Twitter @WorldVision
World Vision has been working in Lebanon since the onset of the civil war in Lebanon in 1975 and continues to assist Lebanese families in addition to refugee communities through emergency relief, development projects, as well as advocacy.