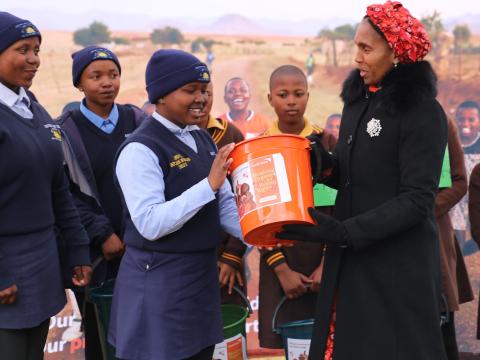 Menstrual Hygiene Day Celebration with Her Majesty Queen 'Masenate Mohato Seeiso
Friday, June 2, 2023
Leribe, 30 May 2023 - World Vision International Lesotho (WVIL) is proud to announce the commemoration of Menstrual Hygiene Day at Pitseng Primary School in Mapiko Cluster. The event will be graced by the presence of the esteemed WVIL child protection champion, Her Majesty Queen 'Masenate Mohato Seeiso. This momentous occasion aims to raise awareness on menstrual hygiene and advocate for the rights and well-being of girls in school.
Menstrual Hygiene Day, commemorated annually on the 28th of May, is a day that greatly encourages the improvement of access to menstrual products while also speaking to the need to acquire information about menstrual hygiene, menstrual cycles and reproductive health.
Young  girls in Lesotho, specifically those living in rural areas, must make difficult decisions during their menstrual cycle, decisions that may negatively impact their education and lives, resulting from the fear of embarrassment of having a period in public due to lack of access to appropriate sanitary products.
Lesotho still finds itself lacking in terms of infrastructure that is necessary to promote good menstrual hygiene practices as such, in some places, school girls continue to use alternative products during their menstrual cycle, which may not be safe and sanitary to use.
Menstruation is still a key reason that girls do not attend school approximately 1 to 4 days a month, each month due to pain, lack of sanitary products, or a lack of water, sanitation and hygiene (WASH) facilities. This increases the likelihood that girls fall behind in their studies and increases their chances of early pregnancy and child marriage.
World Vision's Water, Sanitation, and Hygiene (WASH) programme plays a crucial role in ensuring access to clean and safe water, sanitation facilities, and proper hygiene practices for children and families. By addressing the specific needs of girls in schools the organization strives to eliminate barriers that hinder their progress and enable them to thrive.
One of the key areas of focus for World Vision's WASH program is menstrual hygiene management in schools. We are committed to creating an environment where girls can attend school without fear of stigmatization or lack of access to sanitary towels. By partnering with the government of Lesotho, development partners, the private sector, communities, and schools, WVIL aims to drive good hygiene practices for children in schools.
Menstrual Hygiene Day serves as a reminder of the importance of providing comprehensive support to school girls during their menstrual cycles. It also highlights the significance of education and empowerment in breaking down societal barriers and promoting gender equality.
WVIL is dedicated to destigmatizing menstruation and making periods a normal fact of life by 2030. Menstruation, though a normal part of most women's lives, is still viewed as a taboo subject in a lot of societies which makes those who go through it feel ashamed to ask for help in their time of need. Because of this we continue to provide clean water, dignified sanitation and sanitary pads to learners in schools across 7 districts where WASH programs are implemented.
Through our WASH programme in the past 3 years, we have been able to reach 8000 girls with sanitary packages and collaborated with the Vodacom Foundation to reach 476 girls. WVIL continues to advocate for free sanitary pads for all girls in schools as girls are still facing challenges in accessing hygiene products in the country.
Join WVIL, Her Majesty Queen 'Masenate Mohato Seeiso, and esteemed guests on Menstrual Hygiene Day celebration as we advocate for the rights and dignity of girls and women. Together, we can build a future where every girl can reach her full potential.
Event Information
The event will be graced by Her Majesty Queen Masenate Mohato Seeiso, The Minister of Education and Training Prof. Ntoi Rapapa and the World Vision member of the Advisory Council Chief Nkuebe Theko
When: Wednesday 31st May 2023 | Where: Pitseng Primary School |Time: 08:30am – 14:00pm
ENDS.    
Note to editor   
For more information contact:
Lerato Brown, Communications and Marketing Manager, lerato_brown@wvi.org +266 5891 1020
World Vision is a Christian humanitarian organisation dedicated to working with children, families and their communities to reach their full potential by tackling the root causes of poverty and injustice. World Vision serves all people, regardless of religion, race, ethnicity or gender.  For more information, please visit www.wvi.org/lesotho or follow us on Twitter @WorldvisionLS | Facebook @WorldVisionLesotho | LinkedIn @World Vision Lesotho