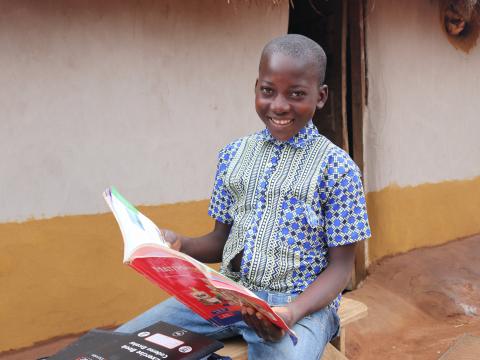 Cyclone Idai survivors set to benefit from $6.6m interventions
Wednesday, August 19, 2020
Over 200,000 people are expected to be reached in multifaceted interventions targeting survivors of Cyclone Idai in the worst-hit areas of the provinces of Sofala and Manica in central Mozambique. Mozambique Humanitarian Consortium (CHEMO) partners - World Vision, Food for the Hungry, and Humanity & Inclusion; together with non-CHEMO member -Village Enterprise- will collaborate to meet this objective through the joint implementation of Cyclone Idai Recovery and COVID-19 Emergency Response projects.
With US$6.6 million in funding from the United States Agency for International Development's Bureau for Humanitarian Assistance (USAID BHA), the new Bureau that merges the former Offices of Foreign Disaster Assistance (OFDA) and of Food for Peace (FFP), the projects will address local communities' needs ranging from Water, Sanitation & Hygiene (WASH) to Child Protection. Other interventions will cover components of Agriculture and Food Security, as well as Economic Recovery.
"Communities in Sofala and Manica have been subjected to immense suffering due to natural disasters. Cyclone Idai swept through their homes, causing large-scale destruction of hectares of crops, assets, and infrastructures." recalls World Vision Project Manager, Brighton Mapiye.  "A year later, their woes were compounded as they now have to deal with the impact of the COVID-19 pandemic."
These challenges have resulted in many community members resorting to harmful coping mechanisms such as spending less on healthy food, forcing children into labour, begging, and early marriage; to mention just a few. "In moments like this, children and women are the most affected and they need special care and attention. They are vulnerable to traumas, violence and abuse. It's critical to have child protection and psychosocial services in place to support them," Mapiye adds.
The WASH component that will benefit 122,900 people comprises of the construction of 70 inclusive wells, three water systems and the rehabilitation of 50 boreholes to provide clean and safe water to communities, alongside the provision of material subsidies for the construction of inclusive latrines. The project will work with established community structures to impart knowledge on good health and hygiene practices and overall management of established WASH infrastructures.
The projects will also enhance the economic capacity of communities so that they are better able to recover from the effects of Cyclone Idai by establishing 80 business saving groups, training 2,400 individuals in entrepreneurship, and establishing 800 small businesses in partnership with Village Enterprise.
Another critical part of the projects is the Agricultural and Food Security component which is being implemented to provide recovery agricultural assistance to 197,500 vulnerable people affected by Cyclone Idai and increase access to food through own production and productive assets.
Tropical Cyclone Idai made landfall in Sofala Province on 14 March 2019. The strong winds and floods washed away crops, destroyed infrastructures, killed more than 600 people, and left an estimated 1.85 million people in need.
Mapiye concludes emphasising: "Our expectation is that these projects will provide communities with a valid reason for them to persevere and build the future they dream of and deserve."
_____________________________________
About:
USAID leads international development and humanitarian efforts to save lives, reduce poverty, strengthen democratic governance and help people progress beyond assistance.
World Vision is a Christian humanitarian organisation dedicated to working with children, families, and their communities worldwide to reach their full potential by tackling the root causes of poverty and injustice. World Vision serves all people regardless of religion, race, ethnicity, or gender.
Food for the Hungry (FH) is a Christian international relief, development and advocacy organisation whose purpose is to follow God's call responding to human suffering and graduating communities from extreme poverty.
Humanity & Inclusion (HI) – Since its creation, HI has worked to develop high-quality services that are accessible to people with disabilities, and vulnerable or excluded populations. Outraged by the injustice faced by people with disabilities and vulnerable populations, HI aspires to a world of solidarity and inclusion, enriched by our differences, where everyone can live in dignity.
Village Enterprise is dedicated to ending extreme poverty in sub-Saharan Africa through entrepreneurship and innovation. The organisation's evidence-based model combines savings groups, training, mentoring, and seed capital grants.  Village Enterprise implements their model in East Africa and works to train others to administer the model in other countries and contexts.
For more information, please contact:
Antonio Matimbe. Communications Manager
Email: amatimbe@gmail.com
Cell: +258 845363469