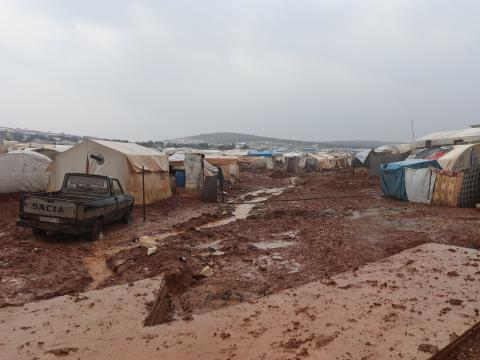 Northwest Syria: A Winter of Misery. Again and again.
Monday, December 28, 2020
Amman, Jordan - 18 December 2020
Heavy rains in Northwest Syria are forcing more than 4 million1 displaced children and their families to endure a winter of floods, plummeting temperatures and misery in the midst of a worsening COVID-19 outbreak that has left them completely impoverished. For the 1.5 million Syrians living in Internally Displaced Persons' (IDP) sites in North West Syria winter is just a further burden which has become a seasonal indignity of additional suffering.  
Last week, two days of torrential rain has destroyed or damaged hundreds of tents and made life almost unbearable for thousands of Syrians who have displaced by years of conflict. "Walking through mud is the only way for us to get to these fabric tents we call home," said Abu Essam*, 60, who has been displaced for years on end with his entire family after his home city was destroyed.  
Yet again, families face a winter living in dire conditions; flimsy and inadequate tents where there is a lack of heating, warm bedding and winter clothes for children. Tragically, freezing conditions earlier in this year claimed the life of a child in the Northwest part of Syria. 
World Vision and its local partners work tirelessly to assist more than 135,000 displaced Syrians in trying to survive the winter providing essential winter kits and heating fuel for schools to keep children warm.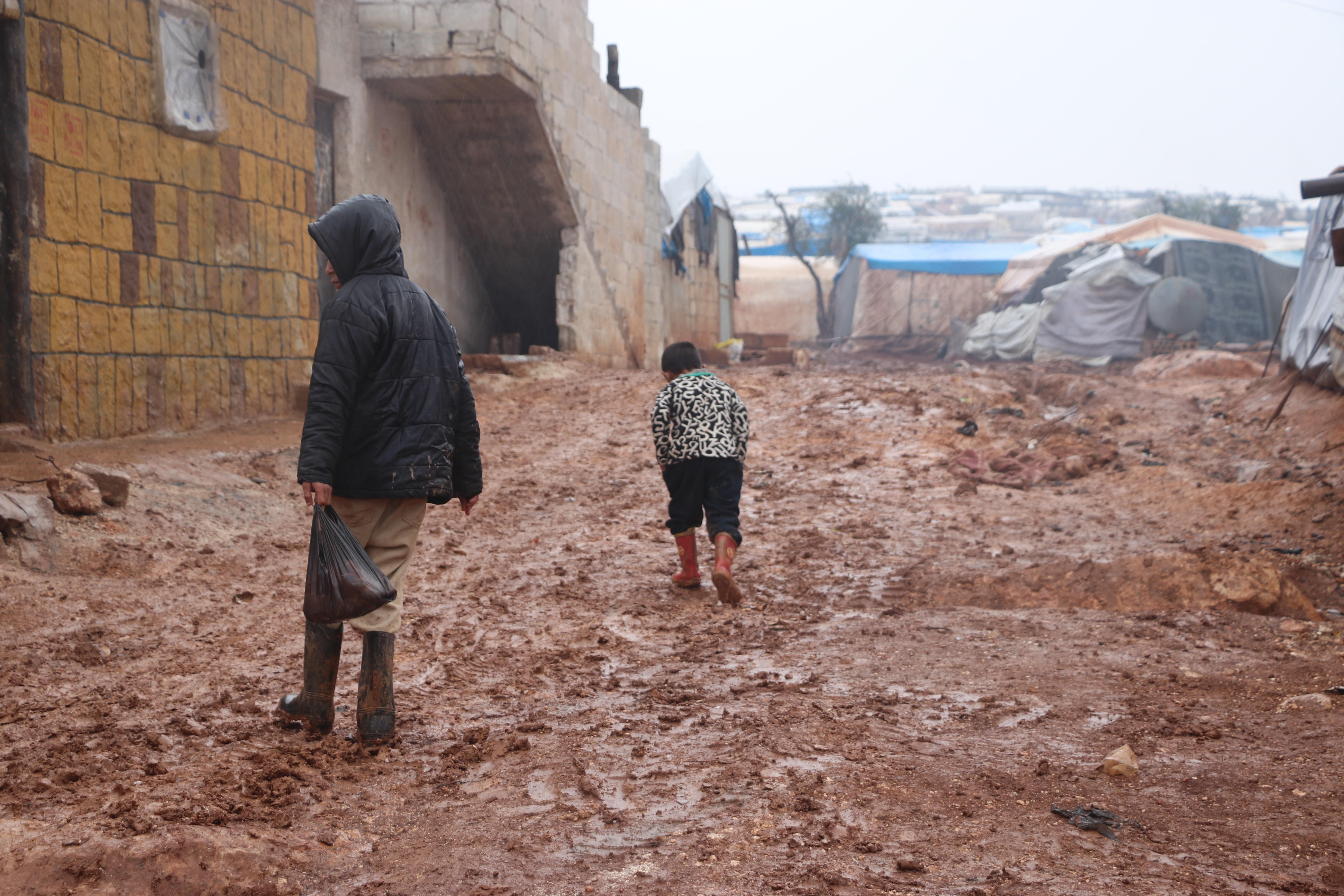 "This tent is our home and it does not protect us from the heat or the cold," added Kholoud*, a mother of three who barely makes ends meet every single day. 
Without a home and a safe place, displaced people are not just at risk of being displaced yet again with no real solution available. They are also facing health risks with COVID-19 confirmed cases multiplying to a speedy rate – 19,934 in total as of December 2020.  
"This is a never-ending story with that we witness every single winter. And unfortunately, it's not just the tents that get damaged, but roads within the camps are also destroyed and flooded. There is mud everywhere. This time four kilometres of main and secondary roads were affected. People can barely get out if at all,", said Rami Alrahhal, World Vision Syria Response (WVSR) District Coordinator.  
"The children's playground becomes a nightmare for us in the winter," said Lara* whose youngest is two years old and only knows war. 
The needs in Northwest Syria are exacerbating due to COVID-19 and dropping temperatures. Displaced Syrians are in dire need of protection from the rain and the cold weather. Personal hygiene items, winter clothes, blankets and mattresses are very much needed by children and their families to stay shielded from the cold weather and the virus, which has so far killed more than 275 people in Northwest Syria.
"Similarly, to last winter, shelter and heating remain urgent needs for most people. Every winter World Vision provides those in need with winter kits and cash to cover their basic needs during the winter. Freezing temperatures have claimed the lives of around ten children, last winter. We are extremely concerned we might witness similar events this winter and our teams are already working to provide similar support this year too," said Alexandra Matei, WVSR Advocacy and Communication Director. 
This situation is unbearable for girls and boys, and some do not survive these conditions. 
"The situation is going from worse to worse. Even if these girls and boys are to survive this winter too, they might not have sufficient food to eat. Families are barely making ends meet since the pandemic started. In total, 95% of the families in Northwest Syria were dependent on daily wages before, which they have now largely lost. With the economy on the brink of collapse, food prices are increasing at an alarming rate. The cost of basic household items has increased by 68% in the period between May and June 2020 alone," added Matei.  
World Vision calls on the international community and all humanitarian actors to scale-up the funding to respond to the winter needs in northern Syria and to keep the COVID-19 response embedded within the main response.
*Names have been changed to protect identities.