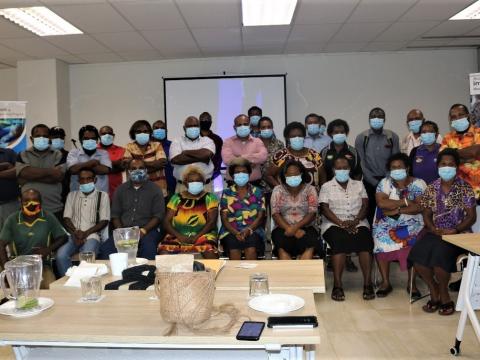 Morobe health workers upskilled and ready for immunisation push
Thursday, December 3, 2020
More than 90 Morobe health sector workers have completed practical training to boost immunization coverage and reduce the spread of vaccine-preventable diseases in the province.
Participants improved their ability to administer new vaccines and manage the logistics of immunization outreaches, which will help to reduce illness, disability, and death caused by vaccine-preventable diseases like polio, measles, tetanus, and others.
Topics covered included cold chain management for proper vaccine storage, organizing and supervising outreach sessions, and immunization safety.
Brenda Tanz, nursing officer, and sister-in-charge at Wantoat Health Centre in Markham District said the training broadened her immunization knowledge.
"I will go back to my district and do more awareness on immunization and put into practice what I learned here so that I can help the children in my catchment area," Sr Tanz said.
The training was part of the PNG Government's multi-year national immunization plan and supported by the Accelerated Immunisation Health System Strengthening program.
The program is an initiative of the PNG Government and supported by the Governments of Australia and New Zealand, and Gavi – the Vaccine Alliance.
It also receives technical support from WHO and UNICEF and is implemented by provincial health authorities and implementation service providers like World Vision.
Morobe's acting health director Micah Yawing said it is crucial that children are vaccinated.
"We have to make sure that the vaccine supply and logistics support are met so that we can see good coverage in our catchment areas," Mr. Yawing said. 
By 2022, the immunization program aims to provide vaccinations to more than 415,000 infants across PNG, increasing national immunization coverage from 30 to 80 percent.
The immunization in practice training was also conducted recently in Western and Madang Provinces.