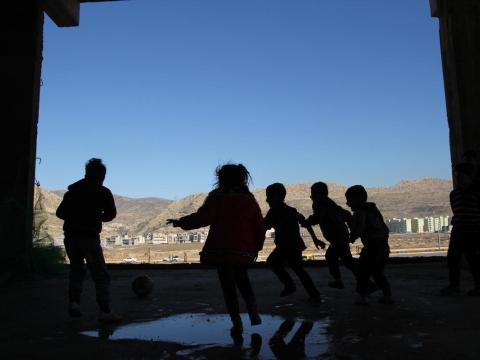 Press Statement: New UN Report Finds Abuses Against Children Continue in Conflict Zones
Monday, July 11, 2022
New York,  11 July 2022
Today UN Secretary-General Antonia Gueterres released his latest report on the situation of children living in armed conflicts around the world. The UN's verification of 23,982 grave violations of children's rights in 21 countries and 1 regional situation committed throughout 2021 indicates the continuation of an alarming trend for the protection of girls and boys.
"We are deeply concerned to see the killing and maiming of children as the most verified violation, affecting more than 8,000 children," says UN Representative and Senior Humanitarian Policy Advisor Lyndsay Hockin.
Abductions, sexual violence and attacks on schools or hospitals also increased in 2021. "Despite international laws to protect children in armed conflict, each year we continue to see flagrant violations and the heartbreaking impact of this on girls and boys."
In this year's report, the Secretary-General has included Ethiopia, Mozambique and Ukraine as Situations of Concern with immediate effect. "The inclusion of these three countries is an important first step in building an evidence base towards accountability," says Hockin, "but it will be essential for monitoring and reporting mechanisms to be effectively established, funded and supported to shed light on abuses and help hold perpetrators to account next year."
The Secretary-General raised concern in his recommendations regarding the impact of counter-terrorism measures on children's rights, including the issue of detention, and urged parties to conflict including States to treat children primarily as victims. The Secretary-General also called on all parties to ensure safe, timely and unimpeded humanitarian access. "This is essential to preventing the denial of humanitarian assistance to children – the sixth grave violation," said Hockin. "In some situations of armed conflict, counter-terrorism measures can negatively impact humanitarian operations. It is critical that aid remains principled, especially for children and counter-terrorism measures do not impede humanitarian assistance."
The Secretary-General's report also includes an annexed list of warring parties who have perpetrated grave violations against children. Despite UN-verified information, more than 15 parties to conflict responsible for grave violations have not been listed. State armed or security forces are not fully listed in 12 of 22 situations. Civil society groups have previously expressed concerns about the Secretary-General's failure to include all parties responsible for child rights abuses.
"The annual report and its list are an important tool for identifying perpetrators and pressuring them to end abuses by 'naming and shaming.' The report's impact and credibility rely on the application of the same standards to all parties across all armed conflicts," says Hockin. "This failure to use verified evidence to list all perpetrators is disappointing, putting politics before children's rights."
See also: