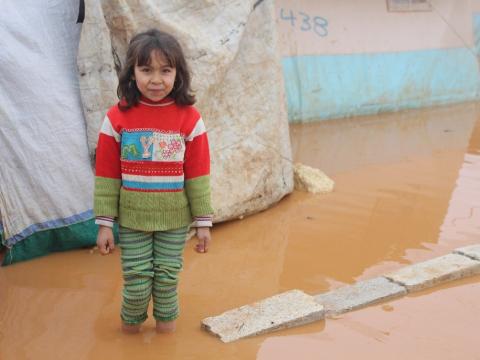 Syria: 'Worst winter yet' in Idlib as storms hit displaced families
Wednesday, December 18, 2019
Heavy rains and cold weather are compounding the misery of families living in open fields and makeshift shelters in Idlib, North-West Syria.
Almost 1,200 families have been their tents damaged or destroyed already in winter storms and 20 displacement camps have been affected by flooding. With new people arriving every day escaping the bombing further south, the camps and aid response are overwhelmed.
This is only the beginning of winter, and temperatures are expected to dip further. For those that still have their shelters, most offer little protection from the elements and families are in desperate need of blankets, mattresses, winter clothes and heaters. Amid a worsening economic crisis in Syria, the price of heating fuel has risen by 20 per cent in the last month.
More than 400,000 people have been displaced in Idlib since April this year, when heavy bombardment and fighting resumed in southern Idlib and northern Hama. At least 60,000 of those have been forced to flee just in the last few weeks. Around half the population of 3 million people in Idlib governorate has been displaced at least once by relentless and often indiscriminate conflict.
Marwa*, a 40-year-old widow, fled her home last year due to conflict. She now lives with her 5-year-old son in a tent, where they share a single mattress. "I lost a lot... my husband, my home and my memories," she said. "I now only have my darling son, and all I'm thinking about now winter has arrived is how I can get him winter clothes, a heater and blankets to keep out the cold in this camp."
In previous years, young children have died from the cold in the camps. The health cluster, which coordinates medical services across NWS, is warning of an increased risk of water-borne infectious diseases and respiratory illnesses like pneumonia and tuberculosis in camps and makeshift settlements.
New-borns are particularly vulnerable – at night, the temperatures drop below zero and there is little sanitation in the damp and muddy camps. Some children have spent years growing up in these conditions.
Johan Mooij, World Vision's Syria Response Director, said: "Children in NW Syria have had to endure a huge amount, but this may be the worst winter yet. With hundreds of thousands of new people displaced, the camps are at breaking point and there is an urgent shortage of tents, blankets and heating fuel. We have to see an end to the violence which is driving this crisis, as well as an increase in humanitarian support."
World Vision is working with partners to distribute winter kits to 7,500 families in 20 camps before Christmas, including blankets, heaters and cash for essentials.
Marwa* will use the winter grant to purchase heating fuel and winter clothing for her son, and will buy him a toy if there's any leftover. "We want the whole world to see the oppression and sadness we live in, those who have lost their villages and homes. We have a simple wish – to live in safety, without fearing loss, displacement and homelessness.  We do not have the strength to lose more."