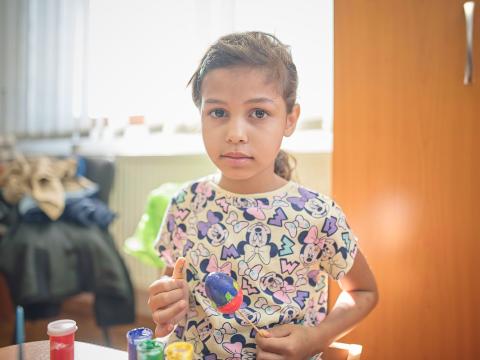 Bittersweet Easter for Ukrainian families as holiday falls on two-month anniversary of the conflict 
Friday, April 22, 2022
World Vision warns Mariupol destruction an early sign of darker days ahead in escalating conflict across eastern and southern Ukraine

Agency implores that shared Orthodox Easter must be a symbolic moment for meaningful dialogue by all parties to the conflict and a pathway to peace

World Vision rapidly scaling up humanitarian response inside Ukraine and urges international community and supporters to offer additional support as conflict worsens.
April 22, 2022 – Two months into the Ukraine War, international aid organisation World Vision is urging parties to the conflict to return to dialogue and protect children from a worsening humanitarian crisis.
"This humanitarian crisis is set to devolve into disaster," says Isabel Gomes, World Vision's Global Director for Humanitarian Operations. "We fear that the destruction of Mariupol is only the beginning of even darker days ahead as this conflict escalates across eastern and southern Ukraine. And along with it will come an even larger surge of people fleeing for their lives, in desperate need of protection, food and shelter. We need leaders around the world to make a real push for peace as humanitarian agencies continue to meet growing needs."
The agency is calling on all parties to mark Orthodox Easter with a humanitarian pause, to allow families a chance to travel to safety and access urgently needed supplies. Leaders should use the period for meaningful dialogues and put the war onto a pathway for peace.
"Orthodox Easter, this weekend, should be a moment of reflection in the middle of this horrific violence and a time to recognise that it must stop immediately," Gomes says. "The future of millions of children is at risk. This Easter season should be a moment for people around the world to pray for children and families affected by the war, and for true pathways to peace."
Just last week, the number of Ukrainians on the move hit a new high, with the total number of refugees reaching five million. The numbers of families who have fled inside Ukraine has surpassed seven million and almost one million Ukrainians who had left the country are also attempting to return home. With hundreds of schools and health centres destroyed inside Ukraine, the agency is warning that there will be a number of deadly secondary impacts due to severely compromised child protection and health systems.
"Violent conflict leads to two kinds of deadly trauma. There are casualties from guns and bombs, but the secondary aftershocks of destroyed hospitals and schools can be deadlier still," says Gomes. "We are highly concerned about the outbreak of deadly diseases like TB and measles resulting from missed routine vaccinations, for example. The international community will need to be prepared to join humanitarian agencies to redouble efforts to protect and support the millions of children whose lives and health are threatened across the region."
World Vision has been responding to the crisis since its first week through its long-term office in Romania and is currently rapidly scaling up its response in Ukraine, Romania, Georgia and Moldova. It has been helping displaced families in Ukraine and refugees as they transit Romania and Moldova.
Media Contact:
For further information or to organise an interview, please contact: Charles Lawley at charles_lawley@wvi.org .
 About World Vision:
World Vision is a Christian humanitarian organisation conducting relief, development, and advocacy activities in its work with children, families, and their communities in nearly 100 countries to help them reach their full potential by tackling the causes of poverty and injustice. For more information, please visit www.wvi.org, or follow us on Twitter @WorldVision.