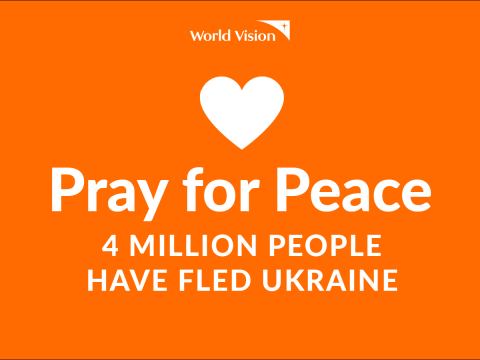 Child Protection, Education, Mental health must be prioritised as Ukraine refugee numbers hit 4 million 
Wednesday, March 30, 2022
Aid agency World Vision calls for a greater focus on protection, education and mental health for millions of Ukrainian children forced from home.  

 
97% of refugee children in Moldova are out of school as the flow of forcibly displaced continues to surge into the country.  

World Vision's humanitarian response to increase 10-fold within two months to meet the rapidly growing needs of vulnerable children and adults displaced and affected by the conflict

 
March 30, 2022 - With the total number of Ukrainian refugees surpassing four million today, international aid agency, World Vision, is calling for greater focus on essential services for vulnerable refugee children, including child protection, education and mental health support. 
"To put that staggering figure of four million refugees into perspective; that's about 82 refugees, or about two busloads of refugees every minute, who have fled for their lives since this crisis began," says Isabel Gomes, World Vision's Ukraine Response Director. "Most are women and children, who are increasingly arriving with little more than the clothes on their backs and a few essential belongings. This leaves them incredibly vulnerable to violence and exploitation. The need for protection and other services will continue to grow as this crisis deepens and becomes more protracted." 
Despite high levels of funding relative to other crises like Syria or Afghanistan, which must not be forgotten, according to the UN's Ukraine Flash Appeal, a number of basic services for Ukrainian refugees continue to be critically underfunded compared to other areas of refugee support, including protection (19% funded), education (8% funded) and health & nutrition (4% funded).  
Ukrainian host countries like Moldova have struggled to meet the basic needs of Ukrainian refugees. Moldova is one of Europe's poorest nations and also has the highest per capita refugee population in the region. World Vision is especially concerned about children losing access education. Nearly 90% of refugees in Moldova are women and children, with 97% of refugee children still out of school. 
"On top of the four million people forced to leave Ukraine, at least 6.5 million have also fled their homes and are displaced within the country.  After two years of COVID-19 lockdowns already, the impact that this crisis will have on children's wellbeing, mental health and education is frightening," says Isabel Gomes, World Vision's Ukraine Crisis Response Director.  
"No child should be forced out of school because of conflict. We know school provides a sense of normalcy that children caught up in conflict desperately need, in addition to offering them a safe space and protecting their futures. As the response moves into its second month, we're focused on working with the authorities to help get children back into school." 
World Vision has been working in Ukraine and Romania since the first week of the crisis and is quickly scaling up its work to support children and their families with basic essentials and other critical services with the goal of reaching nearly 300,000 people in Romania, Ukraine, Moldova and Georgia within the next few months.  
For more information about the work World Vision is doing to support those affected by the crisis in Ukraine and support our efforts click below.
Media Contact:  
For further information or to organise an interview, please contact: Leah Donoghue at leah_donoghue@wvi.org