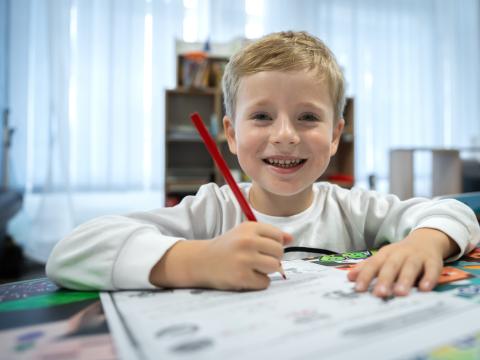 On Children's Day and every day, Ukraine's children deserve peace, free from shelling and violence
Friday, November 17, 2023
World Vision is prioritizing education and safe spaces, ensuring no child is left behind
This year's celebration of World Children's Day is a crucial time to remember the rights of Ukrainian children during the ongoing war. Constant air alarms and bombings in the country are wreaking havoc and causing mental health issues among children.
Ukraine's Interior Ministry recent report stated that in "Over the last 24 hours, the enemy shelled 118 settlements in 10 regions". The Ukrainian children, or any child anywhere in the world, do not deserve this kind of suffering.
"Time and again, children I met in the field have expressed an urgency for the war to stop, for their fathers to go home from the battlefields, and for their family to be safe", said World Vision's Technical Sector Lead Arpanah Rongong as she expressed her concern over the long-term impact of the war on the children.
There are 4.1 million children in Ukraine requiring immediate assistance, over three million of them in refugee-hosting countries. The war divides Ukrainian families, affecting children's mental health and well-being. They are separated from their parents when escaping the war as their fathers go to the frontlines.
Ukrainian children are entitled to safety and a complete family. UNICEF reported an estimated 91,000 children are in need of family-based care. "My biggest dream is for me to see my father and have him return home," shared nine-year-old Eva from Lviv Oblast, whose father is a soldier.
Education remains a fundamental right for Ukrainian children that must be respected. According to the Ukrainian Ministry of Education, 3798 educational institutions have been shelled, with 365 of them entirely damaged.
"Education is highly challenging during the time of war," stated Natalyia, a teacher in Lviv Oblast.  "Constant strikes interrupt classes three to eight times each day, and students without tablets or computers are unable to join the online sessions," she added.
World Vision will continue its efforts to improve access to education for Ukrainian children through conduct of diagnostic and proficiency assessments to assess Ukrainian children's literacy and numeracy skills. Once gaps are identified, World Vision in collaboration with partners will roll out a catch-up program inside the country.
"World Vision aims to enhance learning and skills, enabling children to return to or enroll in schools at a suitable level. World Vision's programs incorporate social and emotional development, aiming to provide critical assistance to the most vulnerable children in Ukraine", said Chris Palusky, Ukraine Crisis Response Director.
Palusky added, "Safe spaces are also equally important. Over 76,000 children are being supported by child protection integrated in all our programs. Stepping up these efforts, and continuously enhancing our psychosocial support activities, will hopefully make life much better for the children."
World Vision has supported over 1.5 million people impacted by the war in Ukraine, more than half of them are children.

Watch Video: Integrated Ministry Director Eka Zhvania on the importance of upholding Child Rights
o0o

For queries and media requests, please contact:
Cecil Laguardia, Communications Director
Email: cecil_laguardia@wvi.org