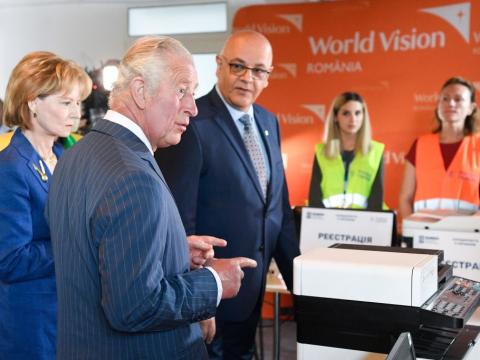 Prince Charles meets with World Vision Staff and Ukrainian refugees in Romania
Wednesday, May 25, 2022
The Prince of Wales' visit to a refugee shelter in Bucharest was a wonderful opportunity for refugees to share their stories first-hand and for agencies like World Vision to show how they are doing their bit to support families fleeing war.  
Since the war began, 6.5 million refugees have fled Ukraine. From the beginning, World Vision staff have been supporting refugees in Romania. Over the last three months, aid workers, local groups and ordinary volunteers have worked and continue to work to meet the needs displaced families. 
Today, a group of those dedicated individuals received a warm acknowledgement from His Royal Highness the Prince of Wales when he visited Bucharest's RomExpo – a massive conference centre turned into a one-stop shop for refugees. 
Multiple agencies, including World Vision, are working at RomExpo to help meet a range of needs for displaced families. World Vision has helped provide food, clothes, baby supplies and internet access for the hundreds of refugees visiting the centre each day. World Vision staff also run a safe child play area, with weekly entertainment. 
Staff say the fact that Prince Charles took the time to travel to Romania was really encouraging for aid workers, local groups and volunteers at the shelter, who felt valued for their contributions to improving the lives of refugees. 
"It was a pleasure and a surprise to meet Prince Charles in Romania today," said Sian Platt, World Vision programme officer in Romania. "It was great to see how he took time to hear about and appreciate the work of the volunteers and municipality staff, who World Vision has been partnering with since the beginning of the conflict to help thousands of Ukrainian refugees in Romania."
World Vision's assistance at RomExpo is just one part of the organisation's massive multi-country response that is supporting displaced families in Romania, Moldova, Georgia and in Ukraine.   
"So far, World Vision's multi-country response has helped more than 130,000 displaced Ukrainian people, providing safe shelter, nutrition, child protection services, psychological support, and cash to people during this difficult time," said World Vision Ukraine Crisis Response Director, Hans Bederski. 
"As the conflict continues to rage, millions of people are still being displaced from their homes, excluded from their schools, and even separated from their families, as they seek safety and security in neighbouring countries. Now, as the emergency response transitions into medium to long-term programmes, World Vision is glad to show the important work we are doing with partner organisations, local groups, and generous volunteers to continue supporting people and children of Ukraine for as long as we can." 
How can I help children and families made vulnerable by this crisis?  
Donate to help children and families forcibly displaced by the crisis in Ukraine.  
Pray for peace to be restored quickly and that children and families will be protected from harm.  
Advocate add your voice to call for peace in Ukraine and protection for affected children and their families.