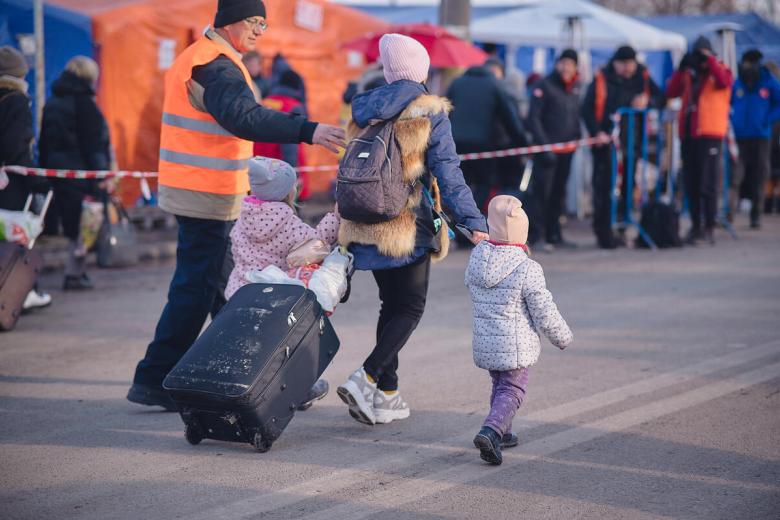 Five ways you can pray for those affected by conflict in Ukraine
Monday, March 28, 2022
1. Pray for shelter and supplies for displaced children and their families  
More than 4 million people have fled Ukraine, making this the fastest exodus in Europe since World War II. Desperate families are finding shelter in the countries surrounding Ukraine-Poland, Romania, Slovakia and Hungary. Uprooted from their homes, cities, and communities, families are clinging to the little they have as they flee.  
Refugees arrive at shelters with few personal belongings, many having only the clothes on their backs. The journey to escape Ukraine has been arduous, with freezing winter temperatures making a difficult situation even worse for vulnerable families. They are greeted at refugee centers with food, warm clothes, hygiene kits and heaters to fight off the frigid weather. In Romania, World Vision is working in refugee centers to deliver aid, supplies and support to children and families.   
Lord we pray for your almighty provision for the refugees from Ukraine. We pray that you would supply shelter, food, supplies, and care for the children and families fleeing their home. Help the needs of the refugees be met in your holy and miraculous way (Philippians 4:19).  
2. Pray for peace and stability to be restored quickly  
The longer the conflict continues, the more risk and harm Ukrainian refugees will have to face. A ceasefire will restore peace and stability to a battered Ukraine, and to the refugees whose lives have been torn apart. Ending this conflict will reunite family members, and bring children and families back to their homes and communities.  
Jesus, you have called us to peace. We pray your hand would be at work in this conflict, and cause peace and ceasefire in Ukraine. Protect the vulnerable children and families, and restore them to their homes and cities. Provide an end to this conflict, and safe humanitarian corridors for refugees to return home.  
3. Pray for those who mourn 
Many refugees have lost friends and family members in the violence across Ukraine, and many more have been injured. Losing not only their homes, but their loved ones as well is a terrible burden for refugees as they find themselves in foreign lands. Unable to properly say goodbye, or have a funeral, refugees also mourn this loss. Refugees now must find the space to grieve in the midst of learning to adapt to new surroundings.  
Lord we know you comfort those who mourn. Draw them near to you and fill them with your peace. Our hearts ache for those who have lost friends and loved ones in this conflict. Bring them comfort as they grieve what they have lost.  
4. Pray for the wisdom of leaders 
Leaders from across the world are gathered in peace talks. They are working to determine actions to end the conflict, and to provide support and resources for those impacted by the conflict. Their decisions will not only impact the children and families who have fled Ukraine, but people and nations across the world.  
God of wisdom, we pray you would impart your knowledge to the leaders working in this conflict. Give them wise counsel and advisors, open their eyes and ears to hear and understand. Guide them in their decisions, and show them good paths to follow.  
5. Pray for the reunification and well-being of families 
Husbands and fathers are sending their wives and children to safety across the border, while they stay behind. At the same time, many grandparents, elderly or people with special needs don't have the strength or the health to leave. This separation creates an emotional toll for everyone. Those who leave—mostly mothers and children—must navigate a foreign land without the comfort and stability of their husbands and extended families. Far from one another, they must grapple with the fear of never seeing their family members again. The trauma of being separated from their fathers weighs heavily on children as they learn to adapt to a new normal in host cities and countries.
Gracious Father, we pray you would bring together the families that have been torn apart and scattered. We pray protection for fathers and husbands who have stayed behind to protect their homes. Comfort the wives and mothers who have journeyed on to find shelter. Give them peace and provision as they care for their children and seek safe refugee. We pray that these families would be reunited once more, and that families would be whole and healthy.  
How can you help? 
Donate  to help children and families forcibly displaced by the crisis in Ukraine. 
Advocate  add your voice to call for peace in Ukraine and protection for affected children and their families.