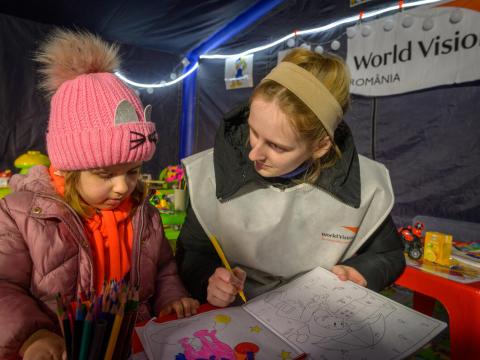 Ukraine refugee numbers hit 5 million: 'The worst may be yet to come' 
Wednesday, April 20, 2022
Ukraine refugee numbers hit 5 million less than two months since war began

Humanitarian agency World Vision says escalating conflict and indiscriminate violence in eastern and southern Ukraine may cause displacement numbers to continue to surge in the coming weeks

Agency urges the prioritisation of stronger support networks, including protection, food and shelter for families forced from home who are running for their lives. World Vision is rapidly scaling up humanitarian response in Western Ukraine
April 20, 2022 – Today, as the number of Ukrainian refugees hits a staggering five million people, World Vision is warning that the international community will need to be prepared to make focused commitments to protect children amidst this spiralling crisis and prevent a humanitarian disaster.
With five million Ukrainian refugees and more than seven million more internally displaced people in just over seven weeks of fighting, this crisis continues to be the most rapid exodus of people since World War II. Despite recent reports of nearly 900,000 Ukrainians returning to Ukraine, World Vision remains highly concerned that this is a temporary period of relative calm with a looming threat of increased risk to people on the move as this conflict continues to escalate.
"That 5 million figure doesn't include the estimated 7.1 million people who've sought refuge within Ukraine," says Isabel Gomes, World Vision's Global Director for Humanitarian Operations. "Among all these numbers though, the most upsetting is the reality that more than two thirds of Ukraine's 7.5 million children have had to flee their homes. That's an entire generation of children who are either refugees in a foreign land or effectively trapped within their own country. These children have been ripped from their friends, communities, schools and the normality that are a source of such comfort and security for children."
"The speed and scale of this crisis continues to be beyond comprehension. But unfortunately, the worst may be yet to come," says Gomes. "Earlier estimates predicted the number of refugees would hit 4 million by July. Here we are in mid-April, and 5 million people have taken the extraordinary, life-changing decision to leave their homeland."
World Vision is deeply concerned about a new level of destructive intensity, wanton violence, and alleged crimes against humanity which force even more people from their homes. The agency is calling for all civilians, particularly children to be protected from indiscriminate attacks.  
Gomes says the need World Vision is witnessing in neighbouring countries has already exceeded the worst-case scenarios, that the needs inside Ukraine have become even more immense, with millions of people in desperate need of protection and life-saving essentials like food and shelter.
World Vision has been responding to the crisis since its first week through its long-term office in Romania and is currently rapidly scaling up its response in Ukraine, Romania and Moldova. It has since been helping displaced families in Ukraine and refugees as they transit Romania and Moldova.
For more information about the work World Vision is doing to support those affected by the crisis in Ukraine and support our efforts click below.
Media Contact:  
For further information or to organise an interview, please contact: Leah Donoghue at leah_donoghue@wvi.org .
About World Vision:
World Vision is a Christian humanitarian organisation conducting relief, development, and advocacy activities in its work with children, families, and their communities in nearly 100 countries to help them reach their full potential by tackling the causes of poverty and injustice. For more information, please visit www.wvi.org, or follow us on Twitter @WorldVision.