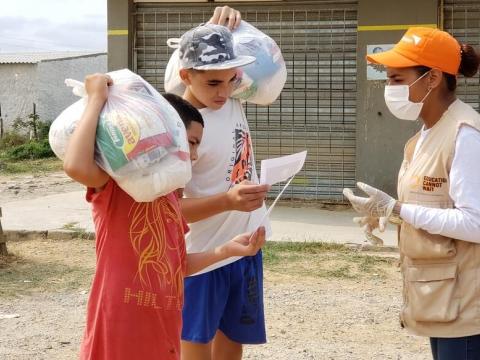 Press Release: New Colombia Migration Policy
Tuesday, March 16, 2021
World Vision celebrates new policy protecting Venezuelan migrants and refugees in Colombia 
10-year Temporary Protection Statute will regularize status for nearly 1 million Venezuelans still in limbo and provide access to public systems and services  
Policy sets an example for neighbouring countries grappling with the effects of the migration crisis 
More than 1.7 million Venezuelans have settled in Colombia after fleeing crisis in their home country 
March 12, 2021 – FOR IMMEDIATE RELEASE 
More than 1.7 million Venezuelans living in Colombia have a more hopeful outlook after the Colombian government recently announced a new migration policy granting them legal status. The Temporary Protection Statute for Venezuelan Migrants allows every Venezuelan who arrived in Colombia before January 31, 2021 to stay legally and offers a way to apply for residency, which will allow them to work legally. It will also apply to Venezuelans who enter Colombia through the regular border crossings over the next two years.  
As an international non-governmental organization currently responding to the Venezuela migrant and refugee crisis in seven countries, World Vision celebrates the Colombian government's move to protect and integrate migrants into society. Children are among the worst affected by the double crisis brought on by the coronavirus pandemic and economic woes in their home country. Many of them fled malnutrition and deepening poverty in Venezuela, their families seeking a more stable, healthy life in Colombia and neighboring countries.   
"We see this as a renewing hope that will allow Venezuelan migrant communities to benefit from social inclusion measures in education, health, employability and protection," said Peter Gape, World Vision's national director in Colombia. "These benefits will provide them with greater opportunities to contribute to the development of the country and to their own life transformation." 
In the last 12 months, 84% of Venezuelan migrants and refugees have experienced loss of income and were not able to provide for food or housing for their children during the pandemic, according to our recent studies in Colombia. This was not only the result of COVID-19, but of prior unresolved issues of migratory status and access to the job market for this population.  
"We celebrate the forward thinking of Colombian government and a policy that will permit Venezuelans living in Colombia to access essential health-care services, ensure their children enjoy social protection and education access and provide for their basic needs while contributing to the country's economy," said Jean Baptiste Kamate, World Vision's global leader for field operations.  
Along with the new temporary protection statute, World Vision renews its support to Colombian authorities and to allies and partners in the Interagency Group on Mixed Migratory Flows (GIFMM). Continued collaboration will reinforce our commitment to guarantee the rights of Venezuelan families, support access to essential services (housing, education, employment, among others), and help these communities develop and thrive.  
In addition to Colombia, up to 320,000 Venezuelans in the United States gained similar new legal protections March 8 after the U.S. government granted Temporary Protected Status and access to work permits.  
Nearly 5.5 million people have fled Venezuela since 2015 as the economic and political crisis there became unlivable. Most have settled in Colombia, Peru, Ecuador, Brazil, and Chile. 
World Vision has been responding to the migrant crisis in Colombia, Peru, Ecuador, Brazil, Chile, Bolivia, and inside Venezuela. Since January 2019, we have reached more than 628,000 people with humanitarian assistance. Our work with 73 partners in Colombia has seen the greatest impact—nearly 432,000 people reached with some form of aid, including cash, food, education, health referrals, access to clean water and vocational and business training.   
ENDS.  
For further information or to organize an interview, please contact:  
Chris Huber, Communications Manager, World Vision Venezuela Crisis Response 
CEL: +1-360-319-4338  I  EMAIL: chris_huber@wvi.org 
World Vision is a Christian humanitarian organisation dedicated to working with children, families and their communities to reach their full potential by tackling the root causes of poverty and injustice. World Vision serves all people, regardless of religion, race, ethnicity or gender.  For more information, please visit wvi.org or follow us on Twitter @WorldVisionLAC