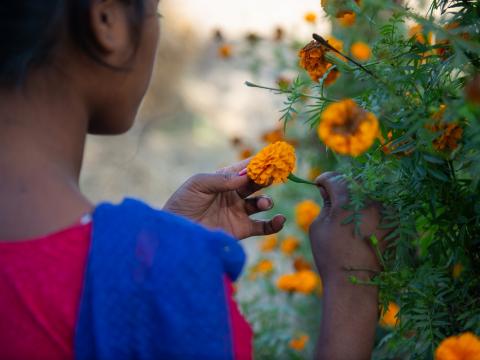 World Vision appeals to faith leaders: Don't marry children.
Wednesday, June 5, 2019
World Vision has appealed to faith leaders everywhere to refuse to marry under 18s, even where law or custom allows it, and to do all they can do change attitudes to child marriage.
The international agency made the plea during the Women Deliver conference in Vancouver, Canada, which this year focuses on power and how it can drive, or hinder, progress and change for women and girls.
"The reasons behind child marriage are complex and everyone has a part to play in ending it," explained Dana Buzducea, World Vision's Leader of Advocacy and External Engagement, "but faith leaders have a particular opportunity to educate communities on prevention of child marriage and ending the harmful cultural or religious norms that allow it."
In some countries, girls as young as seven are forced by their families to marry much older men and, as a result, are exposed to the physical and psychological harm that comes with marrying too soon. The reasons for this are diverse; in some cases parents think marriage will protect their daughters and increase their economic opportunities.
"The truth is that child brides are at particular risk of increased health problems and violence; are denied access to social networks and support systems'; and left poor and powerless," said Ms Buzducea.
Girls who marry too young lose out on education. They are put at risk of early, frequent and dangerous pregnancies. Girls under 15 are five times more likely to die in childbirth than women in their 20s. Children of child brides are 60 per cent more likely to die in the first year of life [1].
Being present in rural and urban communities, faith leaders have a unique position to influence society at all levels, from parents and school teachers to decision makers in public and private sectors.
"We are inspired and encouraged every day by the leaders of all faiths with whom we work – Christian, Muslim, Buddhist and others – who are leading the way on changing attitudes," Ms. Buzducea added.
As part of its ongoing commitment to improving the lives of the most vulnerable children, the humanitarian agency has also announced that by 2025, it will train 150,000 more faith leaders to challenge child marriage and transform harmful social norms through its Channels of Hope programme.
ENDS
For more information contact Megan Radford in Vancouver on +4169389483 or megan_radford@worldvision.ca or Jan Butter in the UK on +447889400889 or jan_butter@wvi.org
[1] https://iwhc.org/resources/facts-child-marriage/

Call to Action (Read the full document here)

We call on faith leaders to:
Champion the fight against child marriage by identifying it, speaking out against it, and taking action to address child marriage and related harmful norms.

Refuse to perform child marriages.

We call on governments to:
Ban child marriage 18 as the legal age for marriage.

Listen to girls, and empower and support them

Invest in education.

Invest in changing harmful traditional norms and practices that condone child marriage by designing, implementing and scaling up national awareness-raising campaigns.

Recognise the heightened risk of child marriage in emergencies and fragile contexts and ensure action to prevent and respond to these risks.

Notes to Editor
World Vision is a global Christian relief, development, and advocacy organisation dedicated to working with children, families, and communities to overcome poverty and injustice. World Vision serves all people regardless of religion, race, ethnicity, or gender. wvi.org
Channels of Hope is an interactive process to create a safe space for faith leaders, their spouses and faith communities to become active participants in the well-being of children through science-based information and insight from sacred scriptures. Read more here.
Learn more about World Vision's attendance at Women Deliver at wvi.org/womendeliver