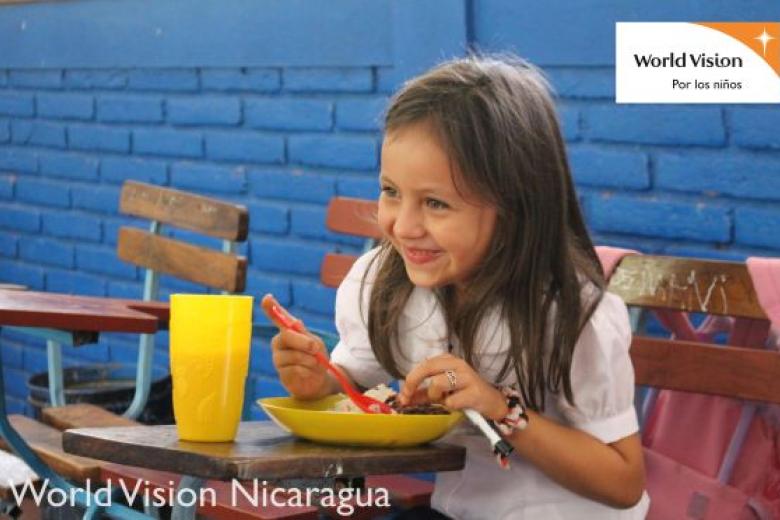 A glance at CREAN
Thursday, September 3, 2015
More than 41,000 children are benefited through CREAN Project (Children Reading and Nourished). It is funded by the United States Department of Agriculture (USDA) and implemented by World Vision Nicaragua in coordination with the Ministry of Education of Nicaragua (MINED).
Children reading and nourished
Among its objectives, CREAN Project will help to improve reading skills in children, the school attendance level and their nutrition. The project is implemented in eight municipalities in Nicaragua, four in Leon Department and four in Estelí Department. In total, it is covering 613 schools.
"Parents in this town are poor, the project solves the needs of many homes", said Silvia Lanuza, Principal on an Elementary School close to the World Vision´s program San Nicolas, where 113 students receive school meals every day.
Kevin Gonzalez, Operations Coordinator for CREAN Project, explained that in the education area, the project includes technical strengthening of teachers and provide educational and reading material to schools. In health and nutrition issues, the project comprises training on health and hygiene, but also distribution of hygiene kits for children.
School meals for children
The school meals component of the project is integrated into PINE Mined Program (Integral School Nutrition Program) - for its acronym in Spanish-, launched by the Ministry of Education of Nicaragua. CREAN Project also helps schools storage food and teachers parents to prepare new menus for children.
Ana Ponce, a teacher from another school in San Nicolas program, considers that the support provided by the project related is very valuable. "With these barrels the food is fully safe, neat, out of the mice access and no moisture damage," she added.
The funding
The total amount of CREAN Project is 12.3 million dollars (US$) and is funded by the United States Department of Agriculture (USDA).
Erich Kuss, Regional Agricultural Counsellor of the Embassy of the United States, expressed that for the government of his country is important to contribute to children's development. "We know that development of any country must begin with children and has to ensure they are growing in an integral manner, not only in schools but also in the community, for us the most important is to see the progress and development of children," said Kuss.
He also pointed out the importance of community involvement to obtain successful results. "This project is about the whole community, not just the school or the children. We can see that the community supports the project and is extremely important to have this support, parents involvement is a good achievement for all."
CREAN Project will also include small infrastructure projects such as improvement of latrines and faucets, it will promote the use of filters to improve access to safe water and will establish schools orchards. 
Meanwhile, Maria Haydée Pereira, National Director of World Vision Nicaragua said that CREAN Project is a visible contribution for children nutrition and education. It is possible by the partnership between the Government of the United States and Nicaragua. CREAN Project will last three years and is expected to finish in October 2017.