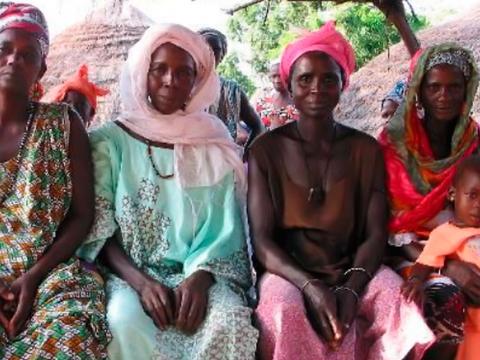 Promising Practices: Grandmother Project
Thursday, October 25, 2012
In 2012, World Vision began work on the Mamanieva Project in Sierra Leone, examining the roles of grandmothers to improve infant and young child feeding practices. Partners include The Grandmother Project, Sierra Leone Ministry of Health (Bonthe District), Emory University, Njala University and World Vision Sierra Leone, World Vision Germany and World Vision International. A baseline survey was carried out in 2013. 
World Vision collaborated with Dr. Judi Aubel, founder of The Grandmother Project and developer of the "grandmother-inclusive approach" or "change through culture approach" (an original methodology for promoting change in community norms and practices dealing with the well being of women and children) to produce the Grandmother Guide. This Guide is designed to help programmers in World Vision, other NGOs, and governments to intentionally involve grandmothers and empower them in their traditional roles, so they can be more effective in improving the nutrition, health and development of their families and subsequent generations.
Watch a video on The Grandmother Project's innovative approach, focusing on Senegal.
Previous collaborations with The Grandmother Project:
In 2006, World Vision began collaborating with The Grandmother Project in Senegal. The first partnership involved research into the diminishing role of grandmothers in Senegalese society (Halpular communities in Velingara district) and analysed how this gap could be bridged to revitalise the educational role of these elders. This resulted in the production of a booklet that was used in schools and communities to re-engage grandmothers as trainers and mentors of subsequent generations.
A second endeavour began in Mauritania in 2007, this time with the goal of engaging grandmothers to deliver behaviour change communication on maternal and child nutrition and other health topics. The programme is centred on the premise that in all African societies, there are grandmother leaders who play an advisory role, not only for their own daughters, daughters-in-law, sons and sons-in-law, but also for other women and men in the community. Their important role is often recognised by formal leaders and others in the community, but they are usually overlooked as potential resource persons.
The Mauritania project uses participatory learning activities to:
strengthen the knowledge of grandmother leaders on key nutrition, health and child development topics
enhance the skills and confidence of grandmothers as leaders in the community.
The learning materials, designed by GMP, were adapted to the needs of the grandmothers, most of whom are illiterate. The materials are based on an adult education approach that stimulates participation, reflection and problem solving. Most educational efforts relating to nutrition and health employ a 'message-based approach', disseminating messages about what should be done. Recognising that simply telling people what to do is not very efficient in promoting changes in attitudes or practices, Grandmother Project activities instead favour dialogue and reflection about popular or traditional practices and attitudes, as well as about more 'modern' ideas regarding the priority nutrition and health topics.
In partnership with World Vision, the materials had been tested over a six-week period with grandmother groups in Ologa (southern Mauritania) in July and August 2007. The length of the activity may have been too short to see sustained changes in the attitudes and advice of grandmothers. However, individual interviews with the grandmothers suggest that there were several promising changes.
BEFORE: In the initial interviews, many grandmothers defended the idea that pregnant women should not eat too much and above all not in the last three months of pregnancy.
"It is bad for a pregnant woman to eat a lot. If the foetus is small, the delivery will be much easier. During the last three months she should eat light things, such as millet gruel." – Grandmother Leader
AFTER: Through the activites, the grandmothers learned that midwives advise pregnant women to eat four times a day, right up to the time of delivery, so as to put on a lot of weight. During the final interviews, most of the grandmothers said that it was important for pregnant women to eat more meat, eggs and liver. The grandmothers' comments suggested that they had started to rethink their attitudes toward both the amount and type of food eaten by pregnant women.
"Before, I thought gruel was sufficient, but now I've learned that liver and meat are good for pregnant women." – Grandmother Leader
BEFORE: At the start, all the grandmothers maintained that breastfeeding was essential for newborn babies. However, only a few were convinced of the importance of exclusive breastfeeding for six months.
AFTER: In the interviews held after six weeks of group educational activities, the majority of grandmothers defended the importance of giving only mother's milk for the first six months. They maintained that they are now convinced of the importance of breastfeeding as much as possible and not giving water during the first six months. Various grandmothers said that during the night, they now wake up the baby's mother so she is able to breastfeed sufficiently.
"With my own children, and with all my children's children, I always gave them water from two months onwards. Now I know that they should be given only their mother's milk during the first six months." – Grandmother Leader
"Grandmothers play a central role at the family level in relation to all aspects of maternal and child health, education and development given their experience, availability and commitment to promoting the well-being of all family members." (GMP & World Vision Mauritania Study, Nouakchott, 2006.)