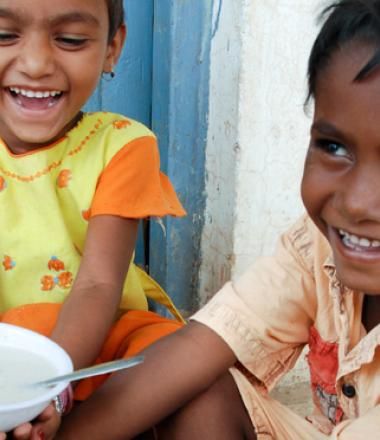 World Vision's Perspective
Nutrition: Essential to Child Well-Being
Focus on proven, low-cost preventive practices that address the primary causes of maternal, newborn and child malnutrition, illnesses and deaths.
With more than 1,400 projects across 98 countries, World Vision's work impacts more than 100 million people. This extensive reach offers us a unique opportunity to significantly influence the global malnutrition crisis and contribute to the Millennium Development Goals. 
Nutrition is a priority issue for World Vision. It is one of the three Child Well-being Outcomes that contribute to Children Enjoy Good Health, one of four organisational goals or aspirations that define the ultimate aim of our work – our desire for children to experience life in all its fullness.

Did You Know?
Better infant feeding practices in the first two years of life could prevent the deaths of 5,500 children a day – almost one-fifth of all child deaths in the developing world. Source: Phillips O, O Donovan K. Poor feeding for children under two leads to nearly one-fifth of child deaths. Press Release by UNICEF, 1 August 2005: New York.
World Vision believes that four areas, most particularly child health, hold the key to achieving life in all its fullness for every child. Targeting them will achieve the change we want to see.

Children Enjoy Good Health
Good health is the foundation of a child's life. World Vision aims to ensure mothers and children are well nourished, protected from infection and disease, and have good access to essential health services.

Global Health & Nutrition Strategy
World Vision launched its Global Health and Nutrition Strategy in 2008. It provides the overall framework for achieving the Child Well-Being Outcomes in health and nutrition. We are committed to improving the health and nutrition of women and children, and contributing to the global reduction of under-five and maternal mortality. The strategy therefore focuses World Vision's health programming on preventive, community-based interventions for improved health and nutrition for mothers and children.  The strategy aims are stated in terms of three objectives that follow the Child Well-being Outcomes described above:
Mothers and children are well nourished.
Mothers and children are protected from infection and disease.
Mothers and children access essential health services.
Global Nutrition Framework
The nutritional focus of the Global Health and Nutrition Strategy was informed by World Vision's Global Nutrition Framework. Based on the UNICEF Conceptual Model for Malnutrition, the framework focuses World Vision's programming on addressing the underlying causes of maternal and child malnutrition. It provides an overarching structure to support engagement in nutritional programming on multiple fronts, including agriculture, food security, education and economic development, as well as health. 

Window of Focus
World Vision's Global Health and Nutrition Strategy takes a life-cycle approach, showing possible nutrition and related sector interventions throughout the life cycle. The first and highest-priority phase targets child development during the first 1,000 days: from conception through the first two years. A significant proportion of undernutrition begins in utero and results in low birth weight, particularly in Asia. Around the world, chronic undernutrition commonly develops in the first two years of life, with lifelong implications for health, education and economic opportunities.
The first 1,000 days is the time with the highest risk of child mortality, as well as the period of most rapid physical and brain growth. Therefore, it is critical that children receive good nutrition within this 'window'. Interventions that prevent undernutrition can be much more effective than those that target children who are already undernourished.

Priority Interventions: 7-11
World Vision's Health and Nutrition Strategy is anchored in evidence-based preventive practices, those practices that have been proven to make a difference. It entails an organisation-wide scale-up of the '7-11' minimum set of interventions. 7-11 is a menu of possible interventions that can be applied depending upon the particular socio-cultural and economic context. It consists of seven possible time-sensitive interventions for mothers and 11 for children under two years. Nutrition interventions within this 7-11 package are highlighted in the following chart.

An Integrated Approach
Achieving the objectives in World Vision's Global Health and Nutrition Strategy is dependent on achieving the full breadth of the Child Well-Being Outcomes, applied in an intergenerational cycle. This can only be accomplished through the effective integration of health outcomes within multiple-sector interventions.
To this end, the Nutrition Centre of Expertise works cross-functionally to promote a nutrition-sensitive development approach across programming sectors. These include food security and agriculture, livelihoods and economic development, early childhood care and development, food aid and emergency response.
At the field level, World Vision's multi-sectoral programmes provide an ideal platform for integrated, nutrition-sensitive development. Linking health, agriculture, economic development and early-childhood development interventions will accelerate progress toward World Vision's Child Well-Being Outcomes and the global Millennium Development Goals.