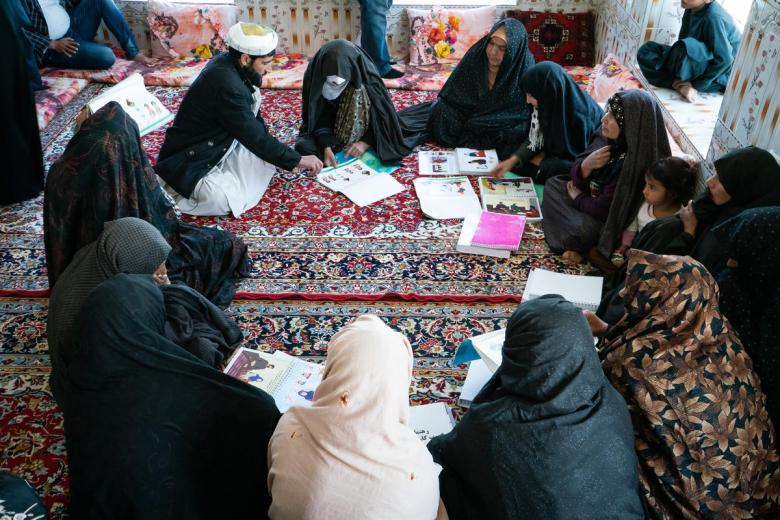 The Afghanistan I know
By Patrick Thomas
"Our dream has always been to be free."
I cannot stop thinking about lessons the incredibly brave women I had the privilege to work alongside in Afghanistan taught me, the biggest of these being the value of freedom. Something so many of us take for granted is fiercely savoured by them. For many, life in the last few years had turned a corner, albeit slowly, towards greater opportunity and choices.
World Vision has worked closely with local and national leaders in Afghanistan to deliver a series of programmes that enable women to participate in community decision-making forums.
One of these involved women, men and religious and traditional leaders rolling out seminars and sermons, together promoting the roles women play in religion and society. For many, this opportunity was the result of more than a decade of quiet lobbying, of partnership making and of breaking down barriers erected some years beforehand. For others, progress had been much slower, and the project represented something much more profound.
Women were able to congregate with other women for the first time in their lives. One woman was finally permitted to leave her home for the first time in more than 10 years and another woman ran for local government.
The recently released National Action Plan for Women in Afghanistan supplied the impetus to keep pursuing platforms for women's needs and opinions to be heard.
This work has been more than just lip service. We didn't merely tack on women's voices to existing forums. New pathways needed to be found and legitimised by community and government leaders – mostly men, who ultimately held the keys to the doors that had been locked or non-existent for so many years prior.
It took the courage of men and the sublime tenacity of many women, but after three years, women groups had been created and a direct line between them and the local government had been established.
Finally, part of an ambitious plan was coming to life; women had a voice that was being listened to.
In 2001, the literacy rate of Afghan women was around 12%. For the past 20 years it has patiently climbed to 30%, while infant mortality rates have halved since 2000.
Non-government organisations have worked tirelessly alongside teams of incredible women and men to support communities to have greater access to education, health and employment opportunities and services.
World Vision has been in Afghanistan since 2001 – originally deployed to provide humanitarian assistance, we have since found ourselves building development programmes, investing the future of this wonderful country and its children. Over the past few months and years, we have once again been responding to humanitarian crises – a raging hunger emergency – and find ourselves now willing and able to respond to another as the recent conflict and political upheaval leaves families wondering what the future will hold.
For now, NGOs like World Vision are willing and able to address the immediate needs of the Afghan people – food, water, health and shelter. Amongst the chaos, the safety of vulnerable groups such as women, children and people living with disability are at the heart of our actions.
When the dust settles, it is our hope that local and national leaders are able to continue to support communities continue the climb out of poverty – to access education, life-saving medical support and sustainable employment opportunities. To live fulfilling lives.
I hope also that we may continue to support women to pursue freedom and build on their hard-earned gains.
As always, courage will be required. As always, courage will be found in the deep reservoirs of women across Afghanistan.
But as always, it won't be enough without our support and the support of those who hold the keys and who own the doors, to make sure they stay ajar.
Patrick Thomas is World Vision Australia's Manager for Low-Income Countries Programmes.
Subscribe to see more content like this