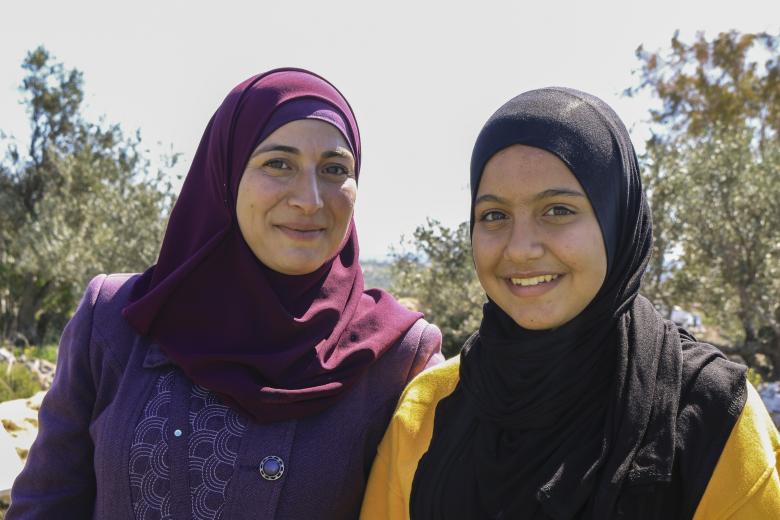 'Being the change you want to see' is more than a cliché
At the start of the 16 Days, Eleanor asks what women can do and be to break the cycle of oppression and injustice that harms women and girls in so many ways. 
Wednesday 24 November, 2021
Who was your biggest female influence growing up? You mother? Grandmother? Teacher or Godmother? Whoever it was, their sense of their own empowerment will have had a direct effect on how you now see yourself and how you in turn influence the lives of the next generation.  
The knowledge that gender equality and the well-being of children are inextricably linked, has been known for a long time, but new research is showing just how much the well-being of children is directly affected by the empowerment of their mothers.  When women are disempowered and denied opportunities their children's education, nutrition and mental health plummets and their vulnerability to abuse soars.  
This direct linkage creates the intergenerational cycle of disempowerment. Therefore, it is critical in all our work across the humanitarian and development sector we place women's empowerment and equality at the same level as access to food, water, shelter and education. Without this approach we condemn another generation to the same vulnerabilities and risk as their mothers. 
In 1792 Mary Wollstonecraft wrote A Vindication of the Rights of Women where she was the first to argue that women were not naturally inferior to men but just appeared that way because they weren't allowed an education. Over 200 years later we are still having this same argument in so many contexts.  
World Vision is 71-year-old, that equates to three generations. We can stand assured that for millions of children we, our partners, donors and the communities with whom we work have been able to break the cycle of inter-generational disempowerment through education, economic development and rights-based programming. But have we done enough? Have we really thought about that next generation, rather than just the immediate issues? 
It is too easy for us to stand back and make sweeping statements saying, 'this woman is empowered and this one is not', based on the visible indicators of education, earning power and community status. But what goes on behind closed doors tells a very different story. Women so often lead double lives. Outside of the house, they are leaders and can control their own time and decisions. But once they cross the threshold, they have to silence their opinions, they lose all control over their time management, income and decisions, and for a third of women globally they are subjected to violence in that home. Despite some positive shifts in gender norms and equality legislation, this still happen in every country. Let's be clear, these are not issues only existing in our most vulnerable communities. They are issues happening right now in our offices, in our loved ones' homes and maybe in our own homes. 
The issue of disempowerment is greatly increased where women have poor levels of education, living with extended family or are married at a young age—all of which are associated with negative outcomes for children. Our research also shows that domestic and gender-based violence against women directly effects the mental health of children, and there is direct link between the mental health of women and the child's mental health and resilience. The children of mothers with poor mental health do not generally reach their emotional milestones and struggle to cope with challenging life situations. And so, the negative intergenerational cycle continues to spin. 
So how do we break this cycle? 
Shockingly there are only ten countries in the world which offer full legal protection to women, including full equal rights for men and women. These are Belgium, France, Denmark, Latvia, Luxembourg, Sweden, Canada, Iceland, Portugal and Ireland are the only ones offering full equal rights for men and women, at least from a legal perspective. At least 155 countries have passed laws on domestic violence, and 140 have laws on sexual harassment in the workplace. Thirty-four countries have signed up to become Pathfinding countries whose government leaders make a formal, public commitment to comprehensive action to end all forms of violence against children.  
We need to hold governments to account to operationalise existing polices and to put in place the legal frameworks to enable fully equality for women.  
As an organisation, World Vision has a responsibility to promote women's empowerment as a critical precondition for achieving child well-being, and programming accordingly by providing education opportunities, income-generating activities and mental health support for mothers. We need to strategically engage formal and informal power holders, men and boys in a dialogue to change social norms and uphold women's rights. 
As individuals, we need to all need to be part of breaking the cycle. As a woman, I constantly challenge myself on what type of role model am I to children. Am I consistent in my relationships and my level of my own empowerment, or am I bowing to negative cultural and societal norms? I am managing my mental health appropriately so I am not affecting the health of others? How am I bringing inspiration, hope and opportunity to children around me to enable them to become fully empowered at a personal, relational and environmental level?  
Many individuals have made globally significant shifts in women's empowerment. Think Malala Yousafzai and her work on access to education, Ruth Bader Ginsburg legal framework for equal pay and equal access for women, Gülsüm Kav and her work to retain the Istanbul Convention. So, in the words of Laleh Osmany, an Afghan right's activist 'Everyone has some responsibility to try and make the world a better place. Change is difficult, but not impossible. You see it in women who have fought for their identities in a very traditional country like Afghanistan.'  
What will your contribution be today to empower women to assure child well-being and break the cycle?  
Eleanor Monbiot is Regional Leader for Middle East and Eastern Europe for World Vision. Her 30 year in the Humanitarian sector across emergency response and development has been driven by her passion to see justice and opportunity for all. She has a particular heart for seeing women fulfil their leadership potential and works in World Vision to help this happen. Follow her on Twitter at @EleanorMonbiot 
Subscribe to see more content like this