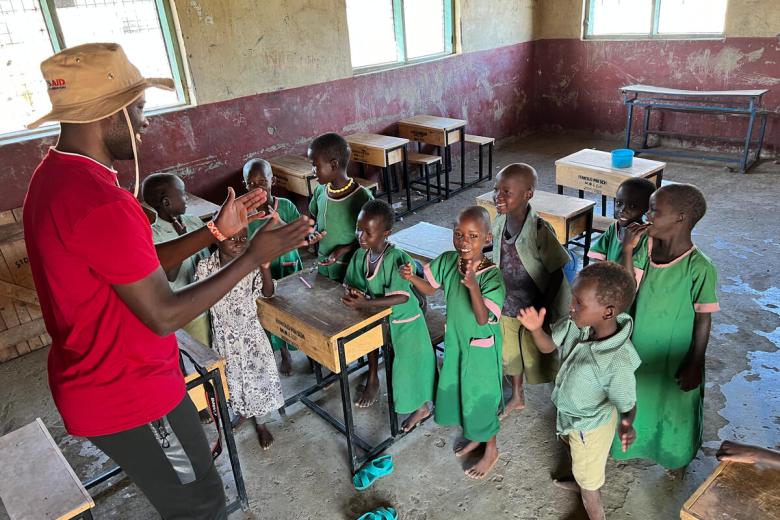 Covering humanitarian tragedies with empathy and heart
World Humanitarian Day 2022 Special: Martin Muluka is an Emergency Communication Specialist for World Vision Kenya, covering humanitarian crises and emergencies such as the latest hunger crisis, with 39 million people across East Africa living in extreme hunger. In honour of this year's World Humanitarian Day, he shares how he is able to find hope in the midst of heartache.   #ItTakesAVillage
Humanitarian workers witness, feel, and capture the needs of those the world prefers to ignore. That's 302 million girls, boys, women, and men in need of humanitarian aid who are being overlooked. These are the scenes that would break anyone's heart.
I have witnessed the brunt of drought and hunger on vulnerable communities, especially children. I've seen malnourished children crying for food and their mothers desperate for help. Animals that used to provide company and milk turned into bones that children carry and throw into piles, as they try to discourage hyenas entering their villages and searching for food.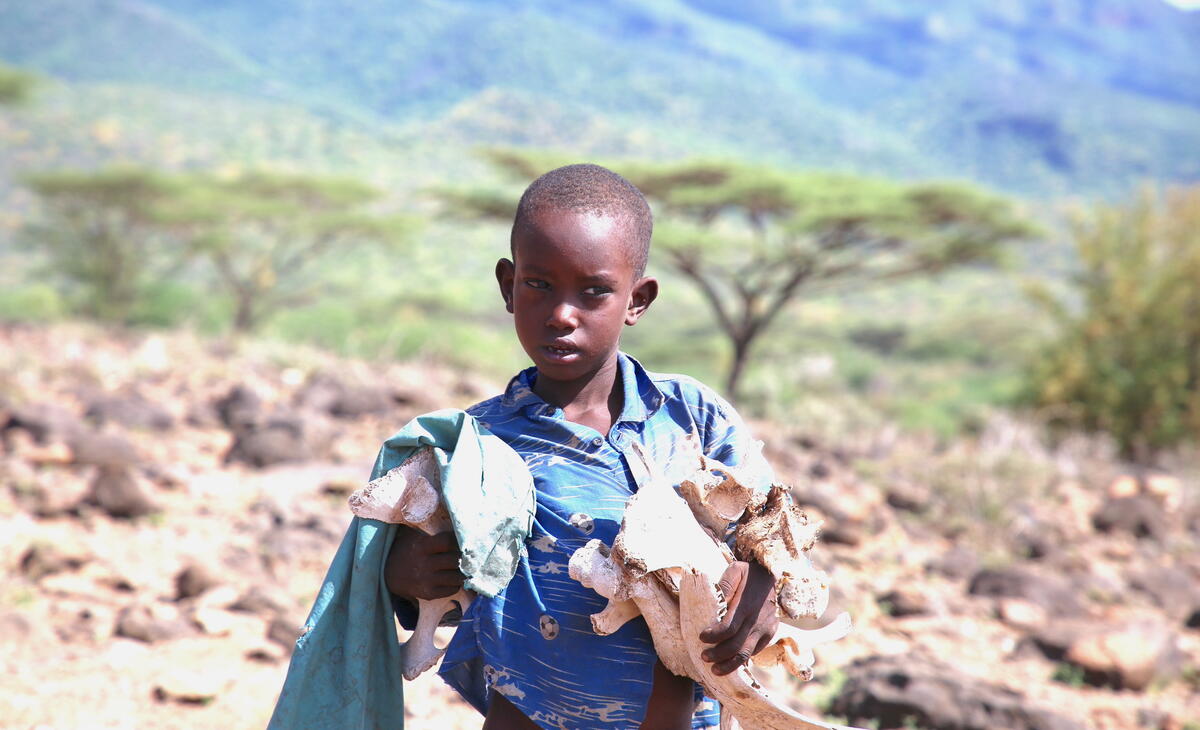 Hunger is dehumanising; it robs a person of vitality, the soul of hope and a mother of dignity. 1 in every 5 people (11.4 million) does not have enough food to eat in Kenya – double the number facing hunger just three months ago.
It is humiliating for a man or woman not to have the ability to respond to the cry of their baby with food or water. Nearly 1 in 3 Kenyan children under the age of 5 (30.4%) are acutely or chronically malnourished. I have heard many stories of men leaving their families in search of dignity and a way to provide [for their families], as well as of mothers' resilience in the face of soothing their children with the promise of food they hardly know if they will find.
There is an unbreakable bond between a humanitarian journalist and the people he or she interviews. Long after leaving the field,  you remember the faces, names, and their requests for help and prayers.
Growing up, I always wanted to be a news journalist, but instead, I found my calling as a communicator for humanitarian organisations. The contrast between the two communications roles is the different ways of storytelling. I see my job as a communicator as a medium between the helpers and the vulnerable. The humanitarian sector teaches you to be human first, recognise that we are all human despite our diversity, and to treat everyone with respect and dignity. Empathy enables a communicator to tell someone's story better, as they would have said it in their own words. Empathy helps you form relationships with the voices you represent. Anyone giving you permission to take their photo and tell their story is a rare privilege and an invitation into their lives. It's an invitation I don't take lightly.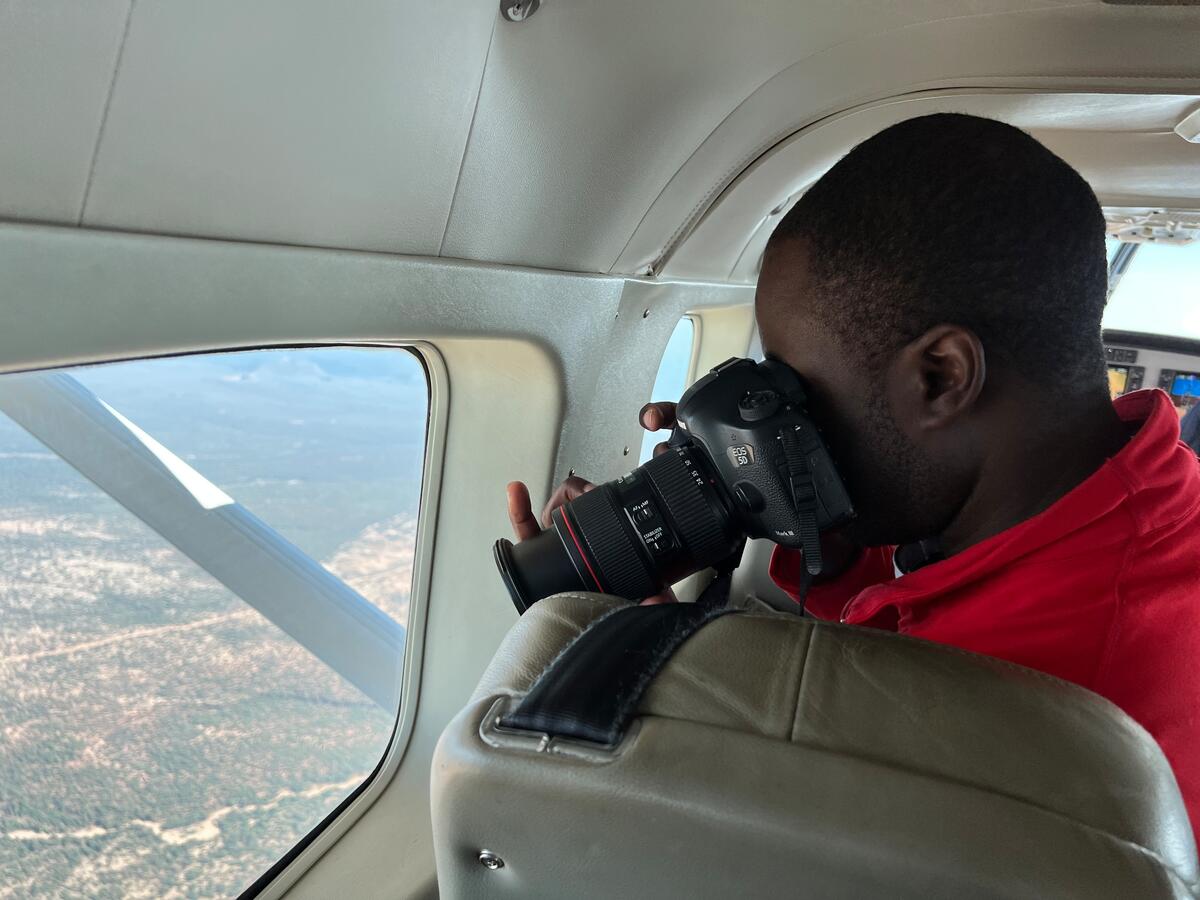 I apply this to my daily work – I always pray to God when I write a story about a suffering child. For example, I recently visited Purapul, a small village in Kenya's rural north struggling with drought and hunger. On this visit, I decided to pray and fast for the community. It was also a way to try to put myself in the community's shoes, to help me understand a fraction of what they're experiencing while I try to authentically relay their stories. This is just one small way I can gain empathy towards an unfamiliar situation. With this ritual, I hope to better convey God's desire for a life in all its fullness for the people and communities I visit and whose stories I tell. My wish is that these stories find their way to the person who will be inspired with empathy and could make a decision that could help communities and save lives. However, the most fulfilling part of what I do is seeing transformation - the change that occurs after I've captured these children's stories. Farmers prospering. Families reached with food and basic necessities. A village able to access clean water and health care. A community that is safe and secure for women and children.
Hope can be found everywhere, even in the midst of darkness. Hope is the salt and the light of life. If you are called to serve as a humanitarian like me, I believe you should serve well even as Michelangelo painted, Beethoven composed music, or Shakespeare wrote poetry. The heart of an artist, or in my case – the storyteller – can help transform lives and shape our world for the better. As we celebrate World Humanitarian Day this year, I hope that the stories that my fellow communicators and I at World Vision share will continue to transform and improve the lives of so many.
This year's World Humanitarian Day recognises it takes a village to raise a child and a whole community to help people in need. In an emergency, the first people to respond are always crisis-affected people themselves. We take a moment to reflect on our own real-life heroes that work for and with World Vision for the benefit of vulnerable children around the world.  
 Martin Muluka is an Emergency Communication Specialist for World Vision Kenya, covering humanitarian crises and emergencies.
Learn more about World Vision's Global Hunger Response. 
Subscribe to see more content like this