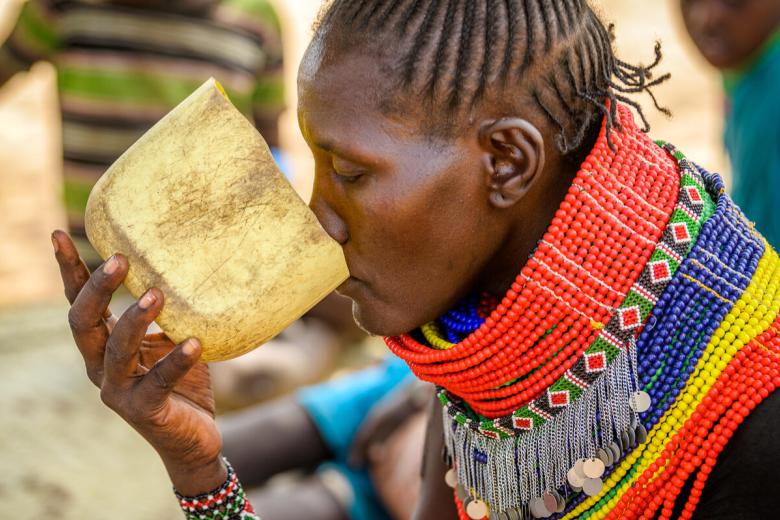 #EmbraceEquity by going further without forgetting the last mile
The United Nations theme for International Women's Day 2023, on 8 March is "DigitALL: Innovation and technology for gender equality." It advocates that women have better access, representation and protection in technology. World Vision is facilitating access to technology, particularly in the areas of economic empowerment and financial services. 
While we work to help women climb this ladder of digital equity and access, we must never forget the women who have not yet approached the ladder at all. We must be careful not to let these women fade into the backgrounds of our minds or be deprioritised in our work.
Going the last mile 
At World Vision, I have the privilege to ensure our transformative WASH work reaches women, girls, persons with disabilities, and other marginalised groups. As we work toward more sophisticated advancements for women's equality, we must remember three key things.
1) More than 771 million people in the world still lack access to basic drinking water – meaning their water is poor quality and can take hours to collect – a burden carried mostly by women and girls. This is unacceptable, and we must not lose sight of that.
2) As more people gain access, it will be more difficult to reach the rest. This is the last mile – where people live in some of the hardest-to-reach places, perhaps affected by conflict, natural disasters, climate change, political instability, poor governance, or extremely constrained resources. The last mile is the most difficult but that is where we reach the most vulnerable who need support the most.
3) Lack of access is a global issue, affecting high-, low- and middle-income countries. According to DigDeep, an organisation that focuses on closing the water gap in the United States, more than 2.2 million Americans still do not have running water or basic plumbing. High-income countries like the United States do not have it all figured out, but we should be humble partners with others around the world, learning from each other and empowering locally-led solutions that last.
WASH is a key that opens doors  
There is no such thing as a silver bullet when tackling big challenges. There are too many variables that we must consider, including human behaviour, political will, resources, etc. Likewise, access to water, sanitation and hygiene (WASH) is not a silver bullet – it does not solve every problem that women face. I believe, though, that WASH is a silver key that opens doors to opportunities, — doors that would otherwise remain closed. Access to water, dignified sanitation and healthy hygiene can remove barriers related to time, health and financial resources. It can create opportunities for business, time for education, and more.

This is exemplified in the story of Lelepore, a beautiful woman I met in Kenya several months ago. She lives in an area that is affected by severe drought. She and other women in her community spend up to six hours daily collecting water by digging into the sand in a dry riverbed. Her community would be one that has not yet approached the ladder of digital equity and access.
However, thankfully, World Vision is actively working with her community to facilitate access to clean water. In February we successfully drilled for water, and the well will soon be equipped to deliver clean water to Lelepore and her community. We have the privilege to help her get closer to this ladder and begin to climb.
The broader theme for International Women's Day this year is #EmbraceEquity. As we stand in solidarity with women around the world to see greater access, equity and leadership, we must link our arms and spread them wide in an embrace that envelopes all – especially those that are hardest to reach – because they need our support the most.
In support of #DigitALL, @WorldVisionUSA and @VisionFund hosted a session on transformational technologies for #GenderEquality in financial services at the UN Commission on the Status of Women (@UN_CSW) on 6 March.
World Vision is sharing our work focusing on gender equality and social inclusion, among other aspects of our WASH work, at the upcoming All Systems Connect Symposium, 2-4 May 2023, in The Hague, the Netherlands.
Kristie Urich is  WASH Technical Director for  International Programmes at World Vision US.

 
Subscribe to see more content like this