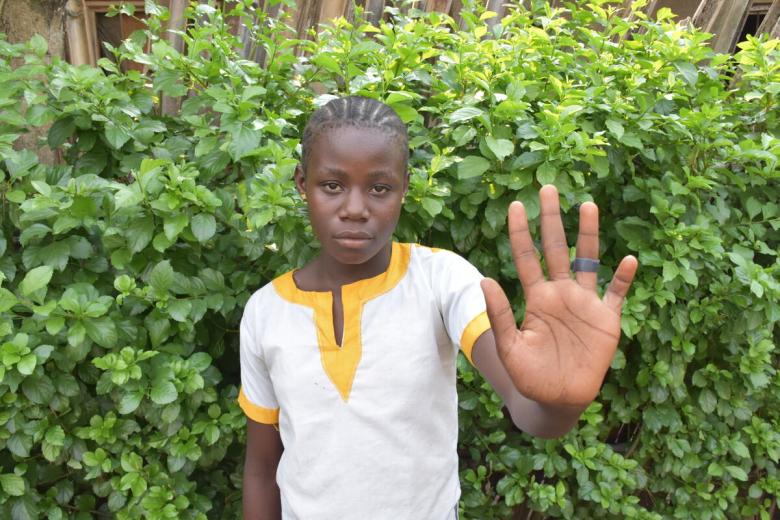 Ending violence against girls is sacred work
Bill explains that it takes all of World Vision's teams and partners to work towards a future in which children are safe from violence. 
Our staff and partners on the front line protecting girls and boys from violence are my heroes. Working to end violence against children is sacred work, and incredibly challenging. The creativity, courage and commitment of our staff and partners as they seek to transform harmful and entrenched attitudes and behaviours regarding violence against children humbles and inspires me. It is my primary motivation to keep going after 23 years in World Vision.
Another motivator is my profound belief that no act of violence against a child is necessary or acceptable, and that every act of violence is preventable. Nevertheless, over the years, I have met countless girls whose lives have been devastated by abuse, neglect, exploitation and other forms of violence.  Sexual abuse, physical abuse, neglect, domestic violence…these acts cause terror, injury and emotional wounds as they are occurring, but they also create lasting impact, making survivors (and often subsequent generations) more vulnerable to a huge range of risky behaviours and destructive relationships. 
Violence can undermine everything World Vision does to improve lives of children, particularly girls. Protecting children and stopping violence against children, including gender-based violence, is critical to child well-being.  Our experience and research has shown us that quality programming and advocacy, when implemented by staff empowered to make decisions, can have a great impact on protecting girls and boys from violence. 
This is at the heart of World Vision's global campaign "It Takes a World to End Violence Against Children". All areas of our work--all sectors, all contexts, and all lines/types of ministry--are committed to doing whatever they can to work towards ending violence, and to encouraging their peers and partners to do the same. All to see more impact in the struggle to end violence against girls and boys. 
This is also why we support the efforts of the Generation Equality campaign and are contributing to realisation of the Action Coalitions  set to deliver concrete results in advancing gender equality and transforming the lives of women and girls.
Our commitment is to : "sustain and, in specific countries increase, evidence-based GBV prevention and response programming and local level advocacy, in at least 20 countries*. This work will include a strong focus on girls' and boys' empowerment, resilience and life skills; as well as strengthening child protection systems, including strengthening families and catalysing faith communities. All this is part of World Vision´s commitment to listen from and to serving the needs of the most vulnerable girls and boys in 70 countries, In 14 countries, World Vision will work to end child marriage through our global campaign It Takes a World to End Violence Against Children." 
Accelerating progress to end violence against girls has never been more important given the global COVID-19 pandemic that, sadly, has increased the risk of violence against girls and boys. Work to end child marriage, violence against children, and gender-based violence that impacts children is essential to World Vision's mission.  
It is one of the great privileges of my life to serve these staff and partners as we work together to protect children from violence. May God bless and equip us to deliver on the commitment above, laying a foundation of peace for generations to come.
To learn more about World Vision's child protection work click here. 
Bill Forbes is World Vision's Global Lead, Child Protection and Participation,
Subscribe to see more content like this