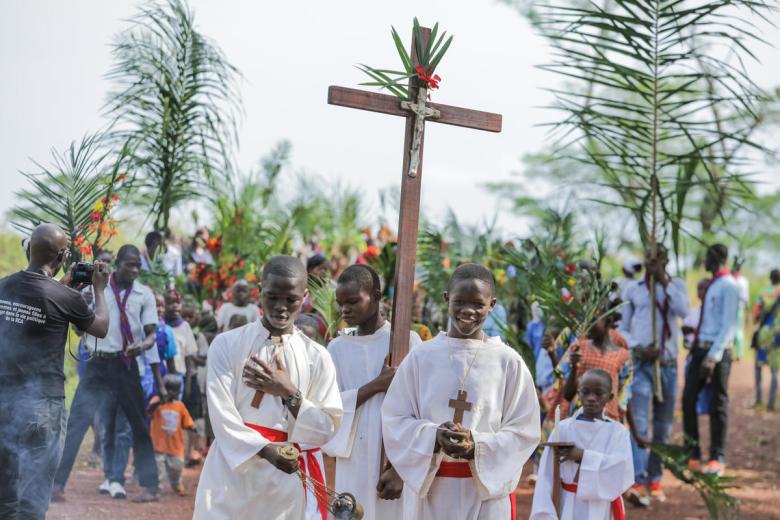 Faith on the move
Faith leaders and communities are essential partners in the journey to address the needs of refugees and migrants, especially children. We must engage with them, and at World Vision we are committed to continuing to work with our values to do exactly this. Children deserve nothing less.
It's important that we recognise this is not a new issue. We know what works to end violence against children on the move, and we must move quickly to scale this up. In my more than 25 years of experience working in this field, I have seen faith actors meaningfully engaging to support refugee and migrant children and their communities. We have good evidence of faith leaders and communities:
Providing spiritual support and care as a source of resilience

Strengthening the continuum of care for child protection

Building social cohesion by promoting peace and combatting xenophobia
As a peacemaker at heart, I am deeply encouraged by the significant evidence that exists to show the effectiveness of women of faith as formal and informal peacemakers… however, we are still largely underrepresented in the peace building apparatus and systems. I am sure we all recognise that this has to change, and we all need to ensure the meaningful participation of women and children in peace processes. 
Leaders from all faiths, and in many contexts, are playing such an important role in welcoming the strangers. We see all over the world, although we don't hear about it nearly enough, examples of faith communities showing willingness and ability to support refugees:
Canada's Private Sponsorship of Refugee programme, Italy's religious groups-led Humanitarian Corridors project and opportunities for advocacy and support in many other countries.

In Lebanon, churches have often housed, supported and been a lifeline for Syrian refugees — primarily Muslim — building peaceful, cohesive engagement as both host community and refugee community had access to support through programs. 

World Vision's own experience includes our

Channels of Hope

approach,

which

comes alongside faith leaders to help them to discover their own calling for social change.
This brings me to a point very dear to my heart. In addition to the work done by individual faith groups, multi-faith efforts bringing leaders from different faiths together to plan for and support children on the move together, is essential. We see the benefits of this approach all over the world, including in Central African Republic where our peacebuilding project helps children forced to flee their homes because of conflict. We work with several partners, including local government, CARITAS and 30 local religious leaders, both men and women, to improve the protective environment for children.
As people of faith, a lot is asked and understandably expected of us. We ask a lot of ourselves and each other, often without the resources and support we may require. We cannot overlook the importance of this when it comes to equipping faith leaders with the resources, training and info they need can increase trust between groups and reduce tensions between refugees and host communities. We see this as one of our key roles in World Vision, and we have been blessed to work with more than 400,000 faith leaders over the past ten years, using Channels of Hope, including, for example, with imams in Rohingya refugee camps in Bangladesh. The training and support we provide and co-develop with faith leaders includes Do No Harm, and Psychological First Aid.
It is clear that great work can be done in this area, and it's encouraging to remember that at the heart of so many faith traditions is the need to protect and care for vulnerable children, especially those forced to flee their homes.
Esther is World Vision's Partnership Leader for Faith and Development. Follow Esther on Twitter @SowEsther
Subscribe to see more content like this