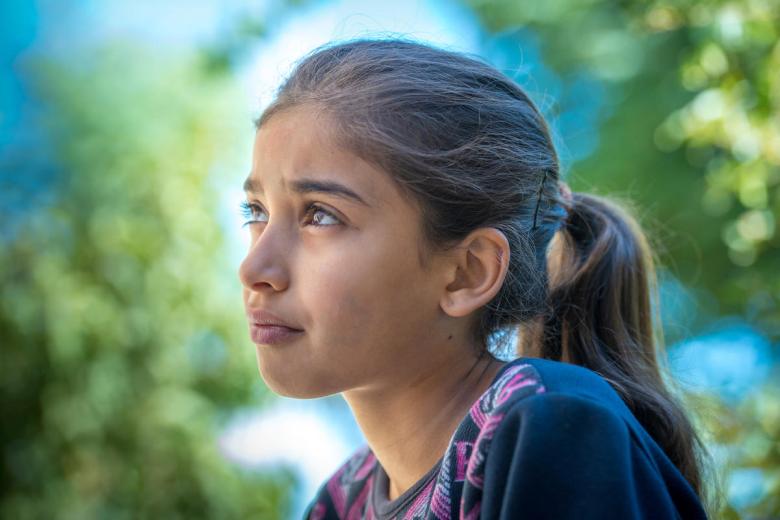 Growing up scared
As she faces a milestone birthday of her own, Eleanor looks at why for so many children, turning the significant age of 10 is not the celebration they deserve.
By Eleanor Monbiot
Cast your mind back to your 10th birthday. The excitement and anticipation of it all. Do you remember carefully writing out the invitations to your classmates, discussing the theme for your cake and dropping heavy hints about the presents you just couldn't live without? Was your day full of family, friends, food and fun? My birthday is just at the start of Spring and I would rush out on the morning to see if the Snowdrops and Crocuses had flowered for my special day!
Now imagine preparing for your 10th birthday in Syria. Every single day of your 10 years has been one of conflict. You were three when you learned the sounds of different explosions and weapons and how you needed to react. You have had to run away and leave everything behind several times already and last week your tent was flooded in a deluge of heavy rains. Your family will do all they can to make this a special day, but a number of the cushions will remain empty, and rations don't stretch to cake.
... rations don't stretch to cake.
Or imagine you are in Niger, where turning 10 as a girl begins the countdown to puberty and your pathway to marriage. You start counting the days until you have to drop out of school, and along with 76% of your friends, put aside any hopes and dreams you had of your future, to prepare to be a wife and mother. If you are in Ethiopia preparing for your big day, as a 10-year-old boy you already have a 50% chance of being in child labour, and with it the risky and scary threats of daily beatings and abuse.
With a 'big' birthday coming up later this month, I have been reflecting on how quickly time goes, and how fleeting childhood is. I feel a burning sense of urgency – we cannot let another ten years pass by with millions of children living with the injustices of violence, poverty, and neglect.
Fear, risk and vulnerability without borders
Every day that vaccines are hoarded by rich countries, and delivery is delayed in low-income countries, economies weaken and children's lives become even more frightening and uncertain.
One in two children globally are subjected to violence and every seven minutes a child dies as a result of this violence.
And this is not confined to children in low-income and conflict-affected countries; in the United States 7.8 million cases of child abuse were reported last year, with an average of five children a day dying of abuse (American SPCC). In the UK, 10% of children, nearly two million, now live with severe food insecurity (UNICEF UK).
It really does take a world to stop this. COVID is putting an additional 85 million children at risk of violence and vulnerability, and our latest report exposes the pitiful pennies in funding that ending violence against children receives. Less than 1% of Oversees Development Aid is used for programmes aimed at ending violence against children. We need to urgently increase this funding, to support the critical elements that are known to decrease violence, including ensuring implementation and enforcement of laws, changing cultural norms and practices, creating safe environments, supporting parents and children, growing livelihoods, and building education and life skills.
We must be the change we want to see.
Violence against children takes many forms but the one common thread is that it is preventable.
Think about that for a moment. Its preventable, not inevitable.
Whether it is Ahmed in Syria, Tesfaye in Ethiopia or Zara in Niger, 10th birthdays should not be marked by fear and dread. They should be marked with hope, excitement and endless opportunities. For the children born this month, can we look them in the eye in 2031 on their birthdays and show them the changes we have made? What will you do today to bring this to them?
Read World Vision's report Too high a price to pay: The cost of conflict for Syria's children 
Eleanor Monbiot is World Vision's Regional Leader for Middle East and Eastern Europe, and was recently appointed as the Civil Society Organisation Forum Representative to the Global Partnership to End Violence Against Children Executive Committee. Follow Eleanor on Twitter @EleanorMonbiot
Subscribe to see more content like this