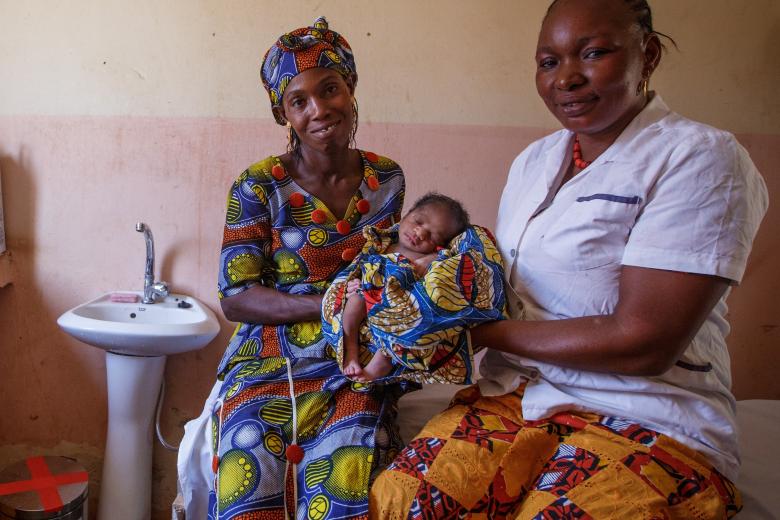 Insights from bringing water, sanitation and hygiene to 2000 clinics and hospitals
Maryanne Herrick considers lessons learned from five years of implementing water, sanitation and hygiene programming in health centres around the world.  
22 May, 2023 
It's hard to even imagine a hospital without running water for handwashing and cleaning. Yet, half of healthcare facilities globally still don't have a place for handwashing with water and soap, while one in five lack any clean water on-site at all. This contributes to more infections and preventable deaths, especially for mothers and babies.  
The dangerous implications for childbirth are heartbreaking, with no safe water for health workers to wash their hands, sterilize equipment, clean the baby, or clean up after delivery. Preventable disease and death due to lack of safe water, sanitation, and hygiene (WASH) services in healthcare facilities is a critical global issue that needs urgent attention.  
Scaling up WASH services in healthcare facilities 
In 2018, World Vision began rapidly expanding efforts to help close the gap of WASH services in healthcare facilities in response to the global call to action by the U.N. secretary general. Since then, we have championed this critical work, scaling up to 40+ countries where we partner with governments to advocate for and support sustainable and well-managed WASH services in healthcare facilities.  
World Vision aims to reach more than 3,000 healthcare facilities with improved WASH services between 2021 and 2025 as part of our five-year Global WASH Business Plan. After two years, we've reached more than 2,000 clinics and hospitals, where millions of people can now access safe and dignified care.  
World Vision strives to go beyond the basic WASH service levels defined by the WHO/UNICEF Joint Monitoring Programme, and we promote comprehensive service planning based on the their  Practical Steps for WASH in Healthcare Facilities. 
Best practices learned from implementation 
Unsurprisingly we learned a lot from implementation over the past five years, and we will continue to learn as we expand our WASH in healthcare facility efforts. Having tested and evaluated approaches and documented best practices as we went along, here are what we found to be some of the most important components for quality programming: 
Build cross-sectoral government partnerships – Capacity building and advocacy with government services should include coordination between WASH and health ministries to define responsibilities, strengthening national policies, developing operation and maintenance systems with budget allocations to fund them, reinforcement of healthcare facility management teams, and WASH service quality monitoring. One successful example of this work is in Niger, where World Vision and the WHO helped establish the WASH in Healthcare Facilities Task Force to support advocacy and coordinate initiatives at the national level. 

Pipe water to all points of care and toilets for handwashing – Piped water in healthcare facilities is preferable to wells with hand pumps because it enables a higher level of hand hygiene and infection prevention/control, and it makes water available for maternity ward showers and flushing toilets.  

Emphasise behavior change - Developing WASH infrastructure alone does not mean facilities will be appropriately used or maintained. For example, in our Mali WASH in healthcare facilities project, evaluation results showed that while access to WASH services significantly improved, attitudes and behaviours lagged behind. It is necessary to focus on hygiene behaviour change for health workers, particularly around infection prevention and waste management, to improve overall health outcomes. The life-saving practice of handwashing in healthcare facilities is crucial for disease prevention and safeguarding global health. 

Plan for ongoing management, operation, and maintenance of services – Essential operation and maintenance components must be in place for continuous provision of quality WASH services in healthcare facilities. This includes a management structure for WASH services at each healthcare facility and adequate budget for staff, cleaning supplies, and system repairs when needed (from government funding and community cost sharing). Further, it's important to plan for growth, as we've learned improved WASH services can increase demand at healthcare facilities. This was the case in Kikuube district in Uganda, where one facility saw births on-site increase from 40 to 70 per month. 

Regularly monitor WASH service quality - Establishing a monitoring system for the quality of WASH services in healthcare facilities creates accountability so community members have sustained access to well-managed, quality healthcare. The Water and Sanitation for Health Facility Improvement Tool (WASH FIT) is a useful tool for monitoring service quality. During implementation, indicators should be contextualised based on local needs and can be adopted and integrated into government healthcare information systems. World Vision is supporting application of WASH FIT in Cambodia, El Salvador, Ghana, Mali, Niger, and Papua New Guinea. 
How should we define success? 
To demonstrate impact and help drive investments in WASH in healthcare facilities, programmes must show success beyond increasing access to WASH services. But what metrics and definitions should be used to evaluate WASH in healthcare facility program success? While the Joint Monitoring Programme service levels are valuable for global monitoring, they are not programme evaluation indicators. Similarly, WASH FIT indicators are useful for monitoring service quality, but they do not measure programme impact. 
The WASH in HCFs Community of Practice  is an action-oriented, learning initiative that encourages a wide range of actors to connect, share experiences and best practices, and act to improve WASH in HCF globally. The community of practice is helping answer the question of how programme success should be defined by compiling impact indictors that consider health, gender, and climate. Subscribe to the community of practice listserv for more information and to hear about programme evaluation indicators. 
Learn more about World Vision's WASH work in healthcare facilities here. 
By Maryanne Herrick, WASH Senior Editorial Manager 
Subscribe to see more content like this